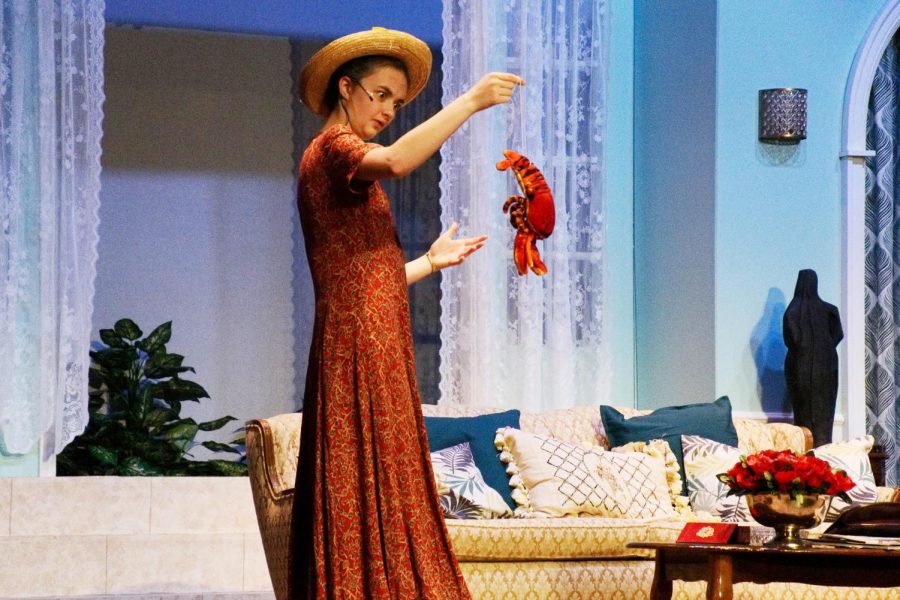 The drama department premiered its take on the murder mystery "The Hollow" on March 15, 16, and 17. The play follows members of the Angkatell family who decide to put their troubles behind them by spending the weekend at Sir Henry (sophomore Anthony Nash) and Lucy Angkatell (sophomore Jessi Fleming)'s home, The Hollow. But when John Cristow (sophomore Aiden Mendoza), another visitor at  The Hollow, is fatally shot out of nowhere, suspicions fester amongst the guests
Inspector Colquhoun (junior Lucas Gilmore) interrogates everyone staying at The Hollow including the widow of John Cristow (junior Tekla Carlen) and the housemaid (junior Kayla Biewer).
While watching the play, I couldn't help but think of a soap opera, but with more dialogue and less plastic surgery. The script hints at each character's potential guilt, creating a more suspenseful plot. I credit this aspect of the play to writer Agatha Christie, the original author of the mystery novel from 1946, "The Hollow." Thanks, Agatha.
The detailed set design was stunning, and, not to mention, versatile. The entire play took place in the Angkatell's living room. The furniture, doors and even books were real, and elevated the production from that of a high school play with a well-budgeted set to a visually-appealing performance. It worked great for entrances, conversations and, of course, murder.
The individual performances met the expectations of a high school play; watching the shock register on the actor's faces as they processed the death of Cristow was a delight. However, I was a bit frustrated with the lack of character development, and, dare I say, two-dimensional performances. Only Gerda (junior Tekla Carlen), when revealed to be the murderer, expressed a wide range of emotions, from fear to vehemence to grief. Gerda as the murderer, now that was a plot twist.
My biggest concern with the show was that, at times, the script was boring. Truthfully, almost the entire show consisted of one character sitting on the couch and conversing with a standing character. Although this aspect of the production was not the fault of the actors, it turned the play into a less enjoyable experience nonetheless. It was difficult for me to be invested in a story with such a hefty amount of dialogue embedded in each act.