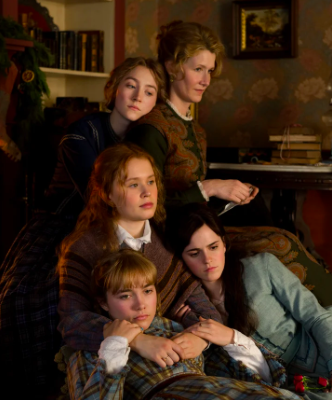 Colombia Pictures
I was worried when I read that there would be a new film adaptation of Louisa May Alcott's "Little Women." I thought this classic book didn't need to be ruined by another one of Hollywood's attempts to dramatize and overromanticize a timeless story. Yet knowing Greta Gerwig, who previously directed "Lady Bird," would direct the 2019 version of "Little Women" assuaged my fears. I was eagerly anticipating the release of "Little Women" as "Lady Bird" is one of my favorite movies, and Gerwig did not disappoint. 
Gerwig manages to maintain the plot of Alcott's original story and includes details from the original book while making it her own by weaving together storylines and timeframes. The plot opens with the girls grown up and making their way in the world but shifts back to their teenage years throughout in order to show the impetus for each current monumental event in their lives. As the film begins, the four sisters—Meg (Emma Watson), Jo (Saoirse Ronan), Amy (Florence Pugh) and Beth (Eliza Scanlen)—are living separate lives: Jo is in New York working as a governess and writing unfulfilling stories for money, Meg is married to poor tutor John, Beth is sick at home and Amy is in Paris with her Aunt March (Meryl Streep) and boy-next-door Laurie (Timothée Chalamet). The movie then seamlessly transitions to the beginning of Alcott's story, when the girls are growing up in Massachusetts next to Laurie and begin to form a friendship with him and his grandfather. 
Gerwig's version of "Little Women" creates an emotional attachment between the viewer and the characters from almost the beginning of the movie. When Beth becomes gravely ill for the second time, not only could I sense the worry in the family but I found myself crying with them and feeling just as sad about her death. As the viewer falls in love with Laurie and Jo's budding romance and then watches as Jo breaks his heart, they're eventually forced to shift mindsets when Laurie woos Amy in Paris. Though I preferred Jo and Laurie together, watching as Laurie and Amy's marriage flourishes it is impossible to not ultimately support them. 
Though the costumes and set match the time period, some of Jo's mannerisms seem to fit the modern day and bring a contemporary feel in order to modernize the otherwise old-fashioned storyline. In the book, Jo was known for acting unladylike, a likable quality she upholds in the movie. 
Gerwig keeps a feminist lens on the movie, addressing the gender roles of the day head-on, with Jo explaining to Laurie that "marriage is an economic proposition" and declaring that she desires independence too much to marry, a rare statement for a woman of her day, despite her eventually getting married. Much of this is the same as in Alcott's novel, attributable to Jo's character but still appreciated. 
Don't fear if you are a fan of Alcott's story, Gerwig manages to put a unique spin on it while staying true to the original plot. "Little Women" does an excellent job of portraying the sisters' personalities in a way which the reader can relate to without becoming overly modern and losing track of original story. This is a must see movie for anyone who is a fan of the book or looking for a family-friendly film.