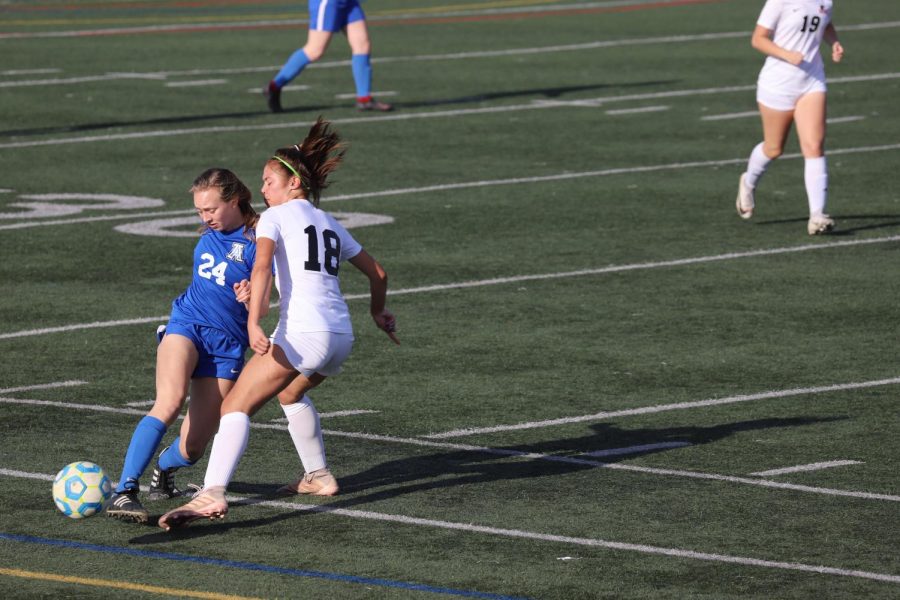 Lavinia Van Hamel Platerink
The girls varsity soccer team exceeded all expectations this season, winning the Central Coast Section (CCS) Championship and making it to the NorCal Championships. Although the team lost in the final game of the NorCal Championships, the team was still incredibly successful. Last season, the team played in the Open Division and lost within the first round of CCS. However, the team played in Division III this season, where they had much better matchups.
Senior varsity player Ella Burrows and Coach Phillip De Rosa described the growth and development the team experienced throughout the season.
"The beginning of the season was very shaky because of all of the new players and having to build a new team," Burrows said. "We got to know each other better, which made us better players and a better team."
De Rosa explained that the addition of many underclassmen resulted in a different team dynamic to which the players had to adjust. 
"Each year's team brings a different dynamic. This year, we have six freshmen, five sophomores, three juniors and seven seniors. In addition to the six freshmen, seven of the other team members were on the JV team last year," De Rosa said. "That makes 13 new to the varsity team. Needless to say, it took a while for the bond and to gel into the championship team they became."
Both De Rosa and Burrows described how their proudest accomplishment of this season was the way the team came together, overcoming all odds in order to win.
"It was really something to see, how they learned how to play with each other and to play soccer the way the game should be played. The team not only won a championship, they represented BHS in a very positive way," De Rosa explained.
Burrows described how she and all the other senior members of the team were motivated this season. 
"My favorite memory was winning CCS. Both in the semifinals and the finals we went into double overtime and penalty kicks. It was fun to see the team not go far in CCS last season but to win it this year. It was cool to know that we could grow and develop over the years and to see we could finally make it at the end," Burrows said.
The girls varsity soccer team faced many obstacles throughout the season but overcame them, going farther than they had ever believed possible.