The 2020 Presidential Election: Where do students stand?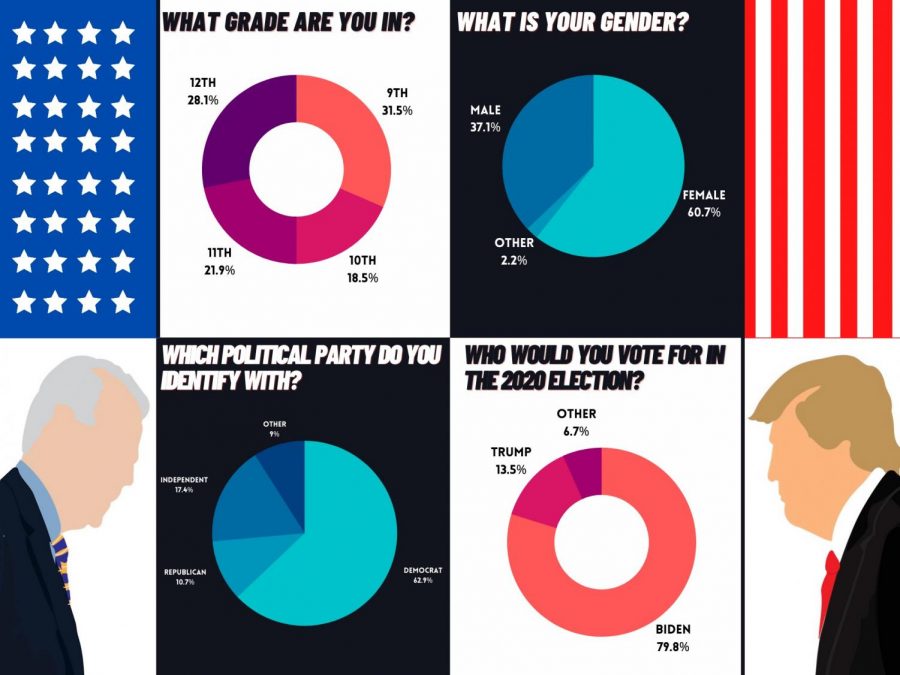 On Sept. 22, The Burlingame B sent out an anonymous poll for students regarding the 2020 presidential election. Most questions consisted of political inquiries, such as where students lean politically, where their parents lean politically and what they like and dislike about presidential candidates Donald Trump and Joe Biden. 
Of the 178 responses received, there were clear preferences of political parties, though the causes for having such a partisan political view in Burlingame were initially ambiguous.
The poll was conducted among all grades; with freshman being the most responsive, totalling 31.5% of the responses. Females accounted for 60.7% of all votes, while 37.1% were male and 2.8% identified as a third party gender or prefered not to state. 
A Gallup poll of the United Statesfound that 31% of Americans identified with the Democratic Party, 25% with the Republican Party and 40%with the Independent Party. The pool of answers from Burlingame students was quite different from national polls.
Of the responses, 62.9% identified with the Democratic Party, 10.7% with the Republican Party, 17.4%with the Independent Party and 9%with either a third party or didn't associate with any party. This left a vast majority of students identifying as Democrats, with a minority of students associating with the Republican and Independent Party. 
"Just living in the Bay Area we're so progressive in certain regards that we often tend to lean more democratic," junior Laurel Brown said. 
Brown lives in San Mateo, though 72% of respondents stated that they live in Burlingame, with every respondent living in the Bay Area, ranging from Pacifica to Foster City. Brown is a self-proclaimed Democrat, and while not a fan of either candidate, spoke harshly about President Trump. 
"He is racist, homophobic, sexist, and does nothing to protect the American people," Brown responded in the poll. Such hostility towards Trump wasn't uncommon, however. When asked about what qualities one liked and disliked about the presidential candidates, most respondents tended to exclusively write negative statements about the president, whereas most wrote positive or included extremely mild criticisms of Biden. 
Of those responses to the question of where one's parents lean politically, 68.5% of respondents had parents who were both Democrats, 12.9% had dually Republican parents and around 10% who either didn't know or had parents with multiple political views.
"My parents used to listen to Ben Shapiro [a conservative author and public speaker]… When I was like 12, I actually started to have a pretty diverse [range of political commentators] who I listen to for politics and got really into it," freshman Luke Nielsen, who is a self-proclaimed Republican and conservative, said,  Nielsen's family is Mormon, which has influenced his conservative views and values. He generally believes this to be a reason for his own conservative beliefs and prefers Trump over Biden, in contrast to the 79.8% of respondents who would vote for Biden and the mere 13.5% who would vote Trump. 
Being in the minority as a conservative isn't exclusive to Burlingame. The data bears a stark resemblance to the political views of the Bay Area. Having consistently voted for a Democratic presidential candidate since 1992, California has grown to be one of the most Democratic states in the nation, leaving conservatives to control just a few rural counties. 
"I've been called "racist" because I'm Mormon," Nielson said. "I didn't even tell them my party or race – I just told them "I'm Mormon" and I've been called racist by that." 
Given the mix of current polling numbers and past elections, there is little doubt that Biden will win California by a landslide come November, and as the next generation of Bay Area residents continue to share democratic political views, there are no signs that the party's influence on the state will decrease anytime soon.
About the Contributor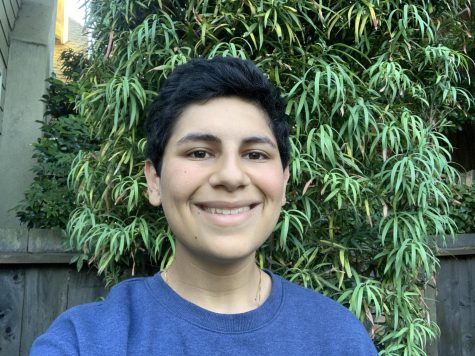 Jacob Lubarsky, Copy Editor
Jacob Lubarsky is a senior at Burlingame High School and a copy editor for the Burlingame B, but also works as a senior reporter and page designer. He...