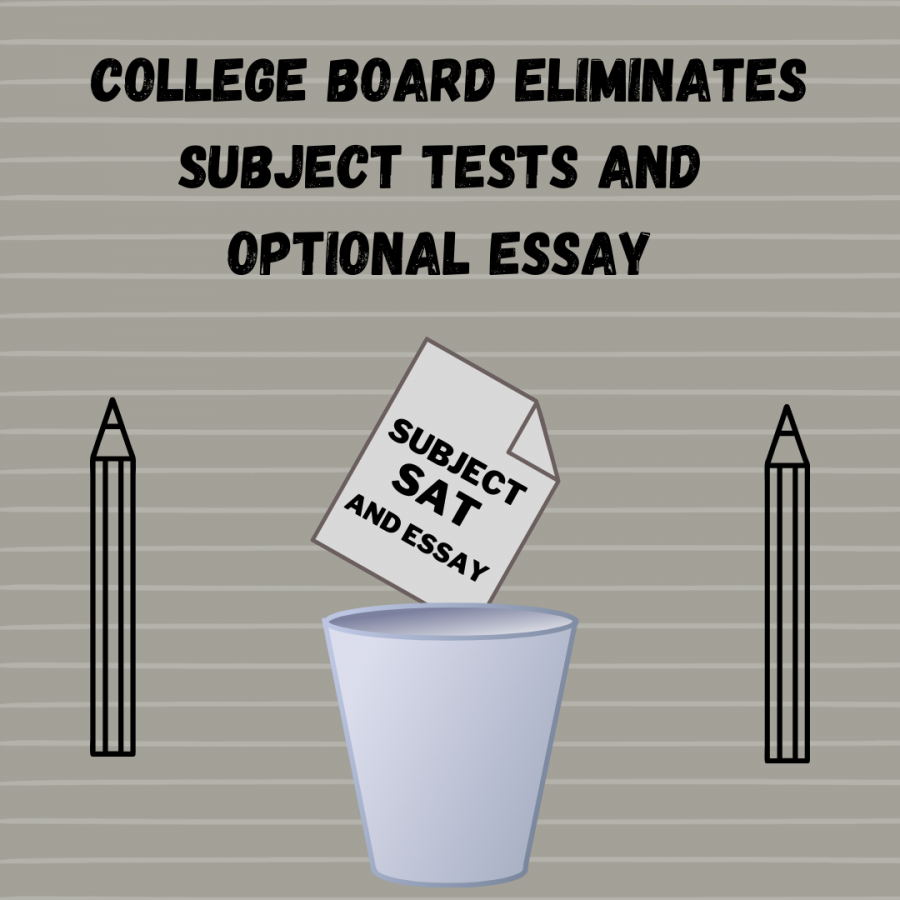 Alex Kelly
The College Board announced on Jan. 19 that they will no longer offer the optional SAT Essay and SAT Subject Tests. This change was due to practical reasons as fewer students were taking subject tests or the optional essay, because in the college admissions process they were not considered as important as other aspects of the application. 
"Not a lot of schools required the subject tests, the places that ask for them they're usually optional for certain sciences and engineering fields," college and career advisor Jonathan Dhyne said.
The subject tests were often optional on college applications because of the popularity of Advanced Placement (AP) courses and which have been regarded as a better and more practical way to demonstrate proficiency in a subject. This change will not make much of a difference for most juniors' college processes as schools did not give much weight to the subject tests or essay.
"The reason they cancelled [the SAT Subject Tests and optional SAT Essay] was pretty much because it was useless. So, if they did cancel it because it was useless, [the college admissions process] is not gonna change," junior Nick Trevor said.
As the College Board continues to make changes to accommodate students during the pandemic, there could be future changes coming to the SAT process. 
"With so many schools kind of moving towards that test optional route … to make sure that [the College Board] is still relevant… in terms of the testing role, there has to be some kind of changes," Dhyne said.
COVID-19 has not only changed multiple parts of the SAT, but much of the general college admissions process this year. With so many unknown variables amid the pandemic, students will have to wait and see whether there are  further changes to come in the future.