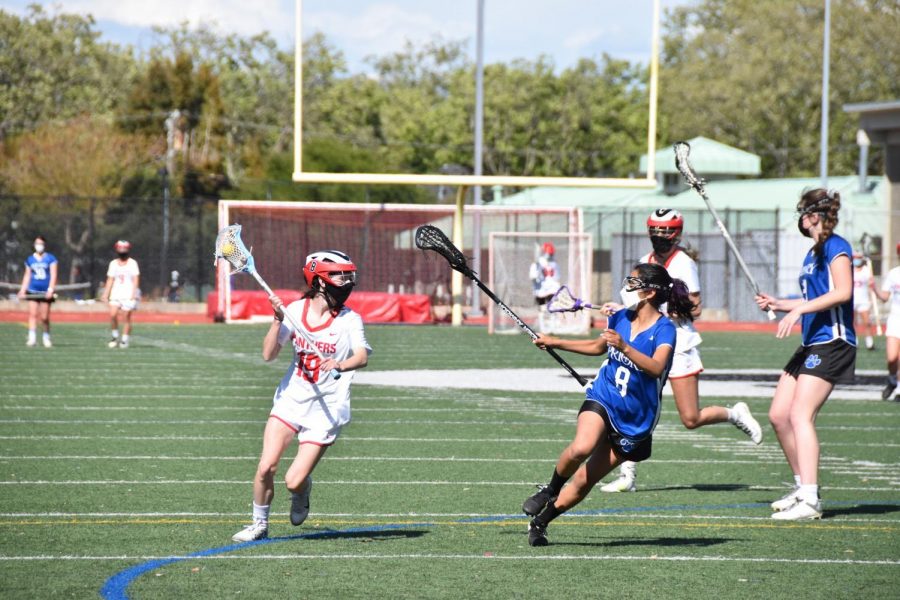 Samantha Johnstone
Burlingame's varsity girls lacrosse team was eager to get back on the field after their 2020 season ended early due to COVID-19. Their first game after over a year-long break was on March 20. The team won the game and then proceeded to win their next four as well, only losing one of their six games, proving they had become anything but rusty during their break. 
Senior Lila Sutherlin and juniors Ella Treu and Ella Bradley are the three co-captains leading the victorious varsity team. 
"[As captains, we are] sometimes creating or leading drills, or demonstrating certain plays, but I think [our main role] is just being really supportive with new players and making sure everyone feels very supported, safe and comfortable," Sutherlin said. 
The supportive lacrosse community that the captains work to foster is what made Treu and Sutherlin fall in love with the sport when they first began playing. 
"I'm always chatting with the other team about like the weather and other random things like that and I wasn't able to do that with other sports," Sutherlin said.
This small talk on the field coupled with the supportive team makes every game competitive yet fun.
"I think lacrosse girls are [also] really unique because we have to be really helpful leaders on the team and everyone has to do their part having a leadership role," Treu said.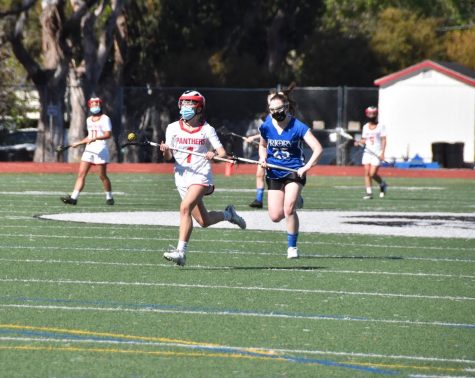 While Sutherlin and Treu's favorite part about lacrosse is the community, Bradley's is the game itself. When she tried out for the team her freshman year, Bradley had never played before, making this only her third year as a lacrosse player.
"Compared to other sports [I've played], like basketball, you can just go up and shoot or you do a layup. But for lacrosse, I feel like for the attack especially, there are a lot of different ways to score so you can get really creative. I like that aspect," Bradley said. 
All three are very excited to be back on the field with little impact from COVID-19 on how the game is played. 
"Lacrosse has always been a very full on contact sport, and you can't really play defense without it," Sutherlin said in terms of the ability to remain socially distanced while playing. "[But we do] screenings everyday, testing and everyone is always super compliant with masks."
Sutherlin is heading off to University of Washington this fall where she will play club lacrosse. She reflected on her lacrosse career at Burlingame as it is coming to an end.
"It was really disappointing last season because I got to be captain and then it got cut short so fast, but it's been so exciting [this year] seeing new players on the field and seeing both Ellas become more confident as captains, so I've definitely had a great senior experience and I'm so glad I was able to play on the team," Sutherlin said. 
The team still has six more games left in the season, and the girls have high hopes to add to their current total of five wins.