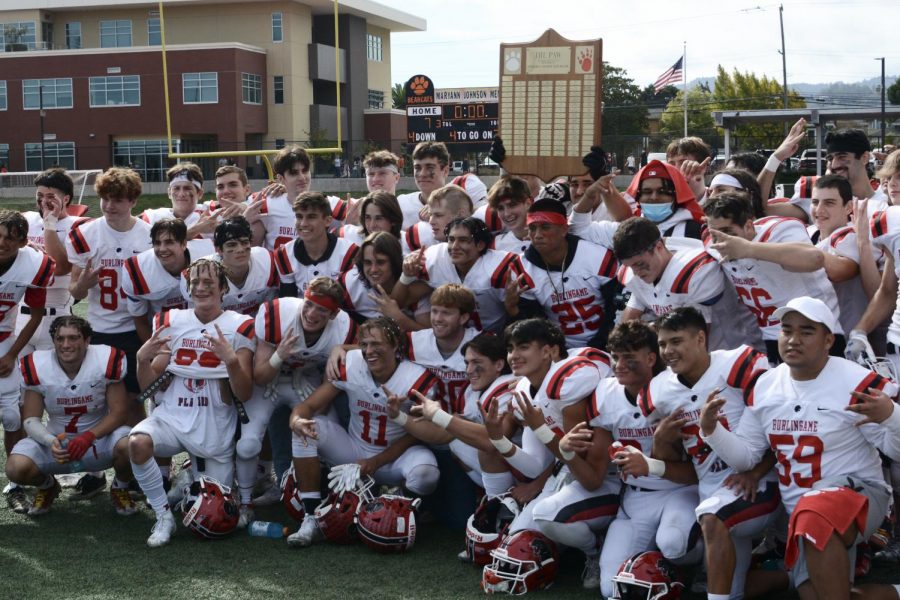 Jake Rothstein
Burlingame beat San Mateo High School 37-7 in their last regular season game, the Little Big Game, on Saturday, Nov. 6. 
Burlingame and San Mateo High School have maintained a tradition of playing each other in the annual Little Big Game since 1927, making it one of the oldest high school rivalries in Northern California. Before the match, Burlingame had an overall record of 7-2 (3-2 in league games), while San Mateo had an overall record of 8-0 (4-0 in league games). 
The first half was dominated by Burlingame. The Panthers' defense stopped San Mateo's offense on every drive in the first half. Burlingame was off to the races from the first whistle as the opening kickoff was returned for a touchdown by star player and University of Arizona commit, Will Uhrich. Ten seconds into the game, the Panthers were up 6-0. 
Shortly after the opening kick return touchdown, Burlingame's defense stopped the Wildcats' offense, allowing junior running back Lukas Habelt to rush for another Panther touchdown. Habelt scored two more rushing touchdowns in the subsequent offensive drives. The Panthers led 27-0 as the first quarter ended.
The Panthers' momentum carried into the second quarter where Burlingame scored 10 more unanswered points to lead 37-0 by halftime. Ryan Kall made a field goal, and running back Nick Cilia rushed for a touchdown, the Panthers' fourth rushing touchdown of the game. 
The second half of the game was relatively uneventful compared to the first. Due to Burlingame's lengthy lead, the team gave playing time to players who usually do not get playing time. With many backups playing in the third and fourth quarter, Burlingame gave up only seven points, but put up none themselves. At the final whistle, the Panthers triumphed over their long-time rivals, winning 37-7 and earning their 12th consecutive Little Big Game victory. Burlingame has not lost a Little Big Game since 2009.
"There wasn't a better way to end [the regular season]," varsity running back and senior Louis Bruening said. "The team played great and we beat our rivals, so there's really nothing that could have gone better."
After Burlingame's successful regular season, Burlingame was ranked as the #8 seed in the Central Coast Section (CCS) Division II playoffs. Burlingame played in the CCS quarterfinals against #1 seed San Benito High School on Friday, Nov. 12 and lost 31-28 in overtime.