District Student Art Show
Hang on for a minute...we're trying to find some more stories you might like.
The San Mateo Union High School District (SMUHSD) office showcased artwork created by students on Wednesday, Feb. 6. Students, parents and teachers packed into the district office for the opening of the districtwide student art show.
The art show featured paintings, drawings, ceramics, photographs, graphic designs, short films and more by emerging young artists from every high school in the school district. Over 60 student artworks were submitted by district high school art teachers for exhibition.  
Burlingame art teacher Deborah Edwards chose to display freshman Cate Cattano's work in order to recognize Cattano's distinctive artistic style. Cattano's portrait intends to frame an idea and communicate it to her audience.
"The portrait symbolizes our connection to nature. I was inspired by a picture I saw with leaves around a person's eyes and thought it was a very interesting and meaningful idea," Cattano said. "I wanted to show my personal connection to nature in this drawing and send the message that we are all part of nature. You should treat the environment like it's part of you."
In addition to attempting to bring the audience to a different perspective of viewing life through art, young visual artists were also able to improve their drawing techniques as they worked on their pieces, which developed their ability to express both intellectual and emotional concepts that are often restricted by the spoken or written words.   
Freshman Kelly Erdenebaatar, who enjoys drawing because it allows her to express her thoughts and feelings through different shapes and colors, worked on gridding for her self-portrait.
"Gridding is when you make an even grid on the paper and the reference photo, so when you draw, you can get the correct proportions, and you know exactly where to draw," Erdenebaatar said. "This allows me to represent who I am by using shapes and colors."
Students, teachers and parents appreciated the art show because it provided the opportunity to collaborate and communicate with other schools in the district.
"Each school in the district was represented in the exhibit, so I could discover what other high schools in the area were learning about in their art classes," senior Emily Steinberger said.  
About the Writer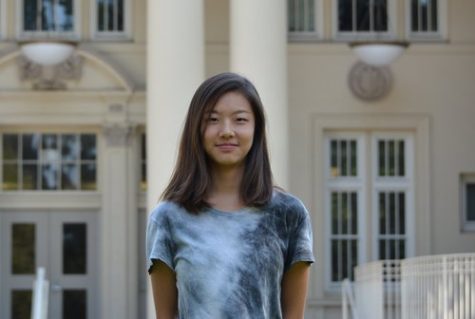 Moya Liu, Business Manager
Moya Liu is a junior and a second year journalism student. This year she will be managing the finances of the newspaper as the business manager. Moya enjoys...