Homecoming: a week of Panther pride
November 13, 2021
Burlingame's softball team takes home win against St. Ignatius
May 6, 2021
The Panthers were a compelling view on April 9 during a home softball game against St. Ignatius College Preparatory (St. Ignatius), in which the Panthers took the win. The stands were filled with parents from both teams; players at their respective benches cheered for players heading up to up-to-bat. Meanwhile parents whispered about their daughters among each other, reciting performance stats, past...
Young Playwrights Project brings student writing to life
April 19, 2021
On Monday, March 29, Burlingame's advanced drama students watched as their scripts came to life over Zoom through the help and guidance of the Young Playwrights Project, an opportunity presented every other year and funded by the Burlingame High School Parents' Group. The project is run by Tony-Award-winning professional theatre, TheatreWorks, and is an educational collaborative for young writers...
Working during the pandemic: three Burlingame students tell their story
April 12, 2021
Each story was derived from five to ten minute long interviews with students from Burlingame. They shared their stories and opinions on what it has been like working in the pandemic. All three have jobs that require them to be around large groups of people for long periods of time.  Ella Treu, junior: Ella Treu first started working at Peninsula Golf & Country Club (PGCC) as a...
Rachel Burdick: AVM survivor and advocate
March 31, 2021
Standing on Crissy Field, breathing in the crisp autumn breeze, junior Rachel Burdick geared up for her first Annual Aneurysm and Arteriovenous Malformation (AVM) Awareness Walk on May 6, 2016. Just a year before, she was rolling around on the ground during gymnastics practice in excruciating, ineffable pain. Dazed, confused and vomiting, Burdick needed immediate help for her mystery affliction. After...
November 9, 2021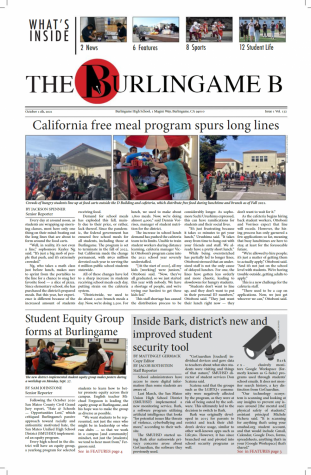 October 20, 2021