High school campuses now offer college courses
Hang on for a minute...we're trying to find some more stories you might like.
For students interested in subjects beyond those taught in school, free college courses are being offered to all juniors and seniors at the beginning of the spring 2019 semester. College of San Mateo is partnering with San Mateo High School to offer courses in accounting, business and criminal justice, while Skyline College is partnering with Mills High School to offer courses to those interested in healthcare career pathways. These courses expose students to different career opportunities, and they are able to earn up to five college credits that can be transferred to a four-year college.
Aside from the typical mathematics, science, history, English and foreign language classes, students are able to enroll in career-centric courses to help them explore their interests and get a head start on their careers.
"I knew that I was interested in the medical field because I like interacting with other people and really enjoy my science classes in school. But I felt that the courses at school were not preparing me for a career in the medical field enough, and I needed to learn about and develop basic skills for a career in the medical field. So I signed up for the emergency medical responder course at Mills High School," Arianna Barata, a student in the Emergency Medical Responder course, said.
From Jan. 14 to May 24, Accounting Procedures, Introduction to Business and Introduction to Criminal Justice are being offered on Monday, Tuesday and Tuesday, respectively, from 6 to 9 p.m. at San Mateo High School. At Mills High School, Gateway to Health Careers and Emergency Medical Responder classes are offered on Monday and Wednesday, respectively, from 6 to 9 p.m.
"In the course, I am being prepared to react in the event of a trauma. I have been taught many important skills such as cardiopulmonary resuscitation (CPR), ventilations, automatic external defibrillator (AED) usage and how to think fast and problem solve," Barata said.
Upon completion of the Emergency Medical Responder course, students will receive an American Red Cross CPR for Healthcare Provider card. Knowing how to perform CPR is a basic skill in healthcare and being certified will help those interested in healthcare in the future.
"These courses are really beneficial because the students are able to learn about different subjects and topics that are not offered in school and can find what they are passionate about through these classes," Barata said.
About the Writer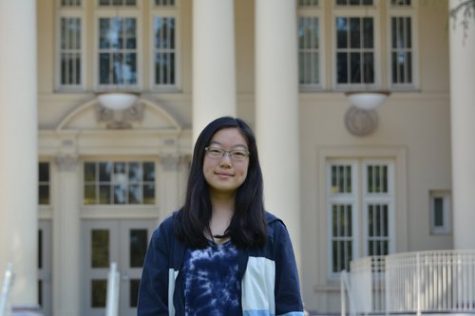 Annie Sun, Senior Reporter
Annie Sun is a junior at Burlingame High School and a second-year journalism student. On campus, she is a varsity badminton player and is involved with...