District hosts first arts, media and entertainment day for CTE students
In an effort to emphasize alternative career pathways, the San Mateo Union High School District held an event dedicated to the arts, media and entertainment industries for students in relevant Career Technical Education (CTE) classes. One year of CTE credits is required for graduation, but the Burlingame attendees were all in their second year of a CTE class. These students missed most of the school day on March 19 and traveled to the district office, where they attended in three sessions designed to boost their industry connections and knowledge. One of the 40-minute chunks consisted of a presentation and Q&A by industry professionals, while the other two gave students opportunities to showcase creative projects, present their resumes and participate in a mock job interview.
"Being able to speak with industry professionals and learn about how they got to the place they're at now was the best part of the day," senior Jada Ganim said. "I was able to get a lot of business cards from people that I will soon make connections with."
Ganim maintains that the CTE day was successful. She met a Burlingame alumnus and now intends to apply for his internship program. Ganim has been in Art of Video for three years, and she plans to pursue filmmaking as a career. Most of the 19 Burlingame students who attended the event were from Art of Video, joined by two art students and two drama students. The other teenagers came from Hillsdale, Capuchino, Aragon, San Mateo and Mills.
The CTE day is now a required event for second-year CTE students. Apart from the arts, media and entertainment day, there will be two other CTE days on hospitality and engineering, respectively. While the first CTE day was generally a success, as evidenced by the number of students rating it five-out-of-five in an informal vote orchestrated by a district official, not all of the happy attendees want the event to be a CTE requirement.
"Although I loved going to it, I don't think it should be a requirement," sophomore and Art of Video student Cole Fletchall-Silva said. "I, like surely many other students, have a lot of … work to make up and missed quite a bit of learning time."
About the Writer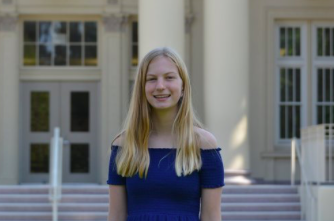 Tekla Carlen, Editor-In-Chief
Tekla Carlen is a senior at Burlingame High School in her third year of Journalism. She is excited to serve as editor-in-chief this year after copy editing...