Environmental Interns look to heal local environment
Hang on for a minute...we're trying to find some more stories you might like.
"To me, the environment is everything," junior Brennan McDonald said.
McDonald, an environmentalist and Burlingame Environmental Club member, has pursued an activist role in the global fight against climate change, aiming "to protect our planet's natural features for the benefit of humanity." Since the spring of 2018, McDonald has worked on a project to upgrade the San Mateo Union High School District (SMUHSD) to a 100 percent clean energy program, thereby eliminating its carbon footprint.
In addition to McDonald, six Burlingame residents, representing Burlingame High School, San Mateo, Design Tech and Mercy, are working in conjunction with the Citizens Environmental Council of Burlingame (CEC) to improve the sustainability of their respective high schools. Each student has planned and is currently implementing a project aimed at improving air quality and reducing waste.
CEC Burlingame was founded in 2009 by longtime Burlingame math teacher Michael McCord, a Sierra Club member who has dedicated his retirement to promoting environmental sustainability in San Mateo County. The 501(c)-3 nonprofit has orchestrated numerous community engagement events, including coastal clean-ups and bike-to-work days, all the while advocating for environmental legislation, like opposing California's Proposition 6 gas tax repeal and lobbying the city of Burlingame to ban plastic bags and paint bike lanes on roads.
In late 2017, with the help of a generous grant from the Morris S. Smith Foundation, CEC established the paid internship program, of which three Burlingame students— senior Jessica Johnstone and juniors Maya Silver and Brennan McDonald—are a part. Representing Design Tech, San Mateo and Mercy are junior Spencer Kishiyama, senior Christopher Noll and senior Grace Zhang, respectively. The students spent the spring of 2018 planning projects that reflected their unique concerns about the environment, collaborating with various supporters including Superintendent Kevin Skelley, Deputy Superintendent Elizabeth McManus, San Mateo County Office of Education Environmental Literacy Coordinator Andra Yeghoian and former Burlingame principal Matt Biggar. The implementation stage began in the fall of 2018 and will continue until May, when the interns will publicly present the impact of their projects before local residents.
Johnstone has focused on removing plastic utensils from the Burlingame cafeteria and replacing them with compostable ones, an effort that will help cut into the globally combined 6 million tons of plastic that is annually discarded, according to One Green Planet. Meanwhile, Silver is working to encourage students to bike to school by reducing the social stigma involved with the practice, incentivizing students with prizes and advertising National Bike-to-School Day on May 8.
Outside of Burlingame, Kishiyama is working to entice more Design Tech students to take public transportation to school. At San Mateo, Noll is conducting efforts to ensure students throw away their trash in appropriate bins so more waste can be recycled or composted rather than deposited in a landfill. Finally, Zhang is creating an environmental club on her campus and encouraging students through school wide advertising to practice sustainable living.
About the Writer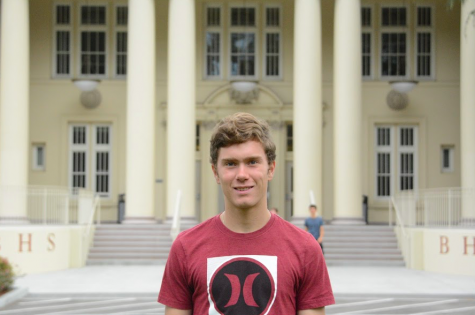 Mark Habelt, Staff Reporter
Mark Habelt is a senior and second year journalism student. In his free time, he enjoys seeing friends, listening to and playing music, and following American...