Steinberger argues for value of press in speech competition
Hang on for a minute...we're trying to find some more stories you might like.
Candlesticks flickered in wooden chandeliers. Banners adorned the walls. Two long tables stretched across the room. A girl with curly red hair stood behind the podium. This was not, however, a scene from a "Harry Potter" movie.
The candlesticks were plastic. The banners spelled "Lions Club" in felt letters. At the tables sat middle-aged men and women in preppy attire. The girl with red hair was senior Emily Steinberger, the only participant from Burlingame in the Student Speaker Competition. The prompt this year: "Freedom of the press, what does it mean?"
The Lions Club holds the Student Speaker Competition annually. As students advance through the levels of the contest, the scholarship prizes increase. The grand prize for the state level is $10,000.
Steinberger argued that the problem of "fake news" has existed since the dawn of journalism, citing sensational coverage of the Spanish-American War and racist propaganda in World War I. The real issue, Steinberger asserted, lies with the rise of social media and the internet, which now provide a platform for journalistic content to anyone with a smartphone.
"The press could be giving us stuff that is real and stuff that is fake. We have to be able to decide what is real," Steinberger said.
After a deliberation period for the judges, a club official announced that Emily had won.
Steinberger competed in the second round of the Student Speaker Competition on March 4, but ultimately lost to her opponent. Regardless, Steinberger emphasized that she values the experience.
"I didn't know I was going to win [in the first level of the competition,]" Steinberger said. "That was a nice surprise."
About the Writer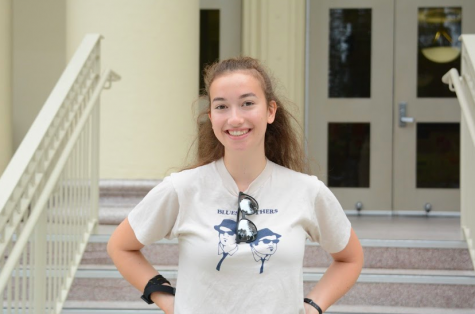 Lily Page, Managing Editor
Lily Page is a senior at Burlingame High School (BHS) and managing editor of The Burlingame B (italicize the name.) This is her third year in Journalism....