Will Pereira proves his worth as "most devoted manager in PAL"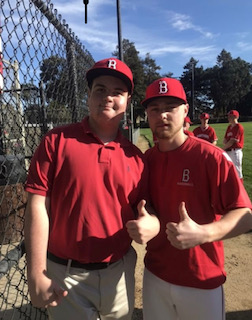 While talent and strong coaching have provided much of the basis for the baseball team's success thus far, one unsung hero has not received the attention he deserves from fans and scouts. Team manager Will Pereira has inspired the team and added to a positive clubhouse culture with his lively personality and commitment to excellence. Pereira's profound baseball knowledge and team-first mentality lit a spark underneath the team following an early-season walk-off loss to their archrival San Mateo. The Panthers currently hold a 9-3 overall record, with sweeps against Sacred Heart Preparatory, Terra Nova and Hillsdale and a plus-30 total run differential.
"This season should be a good one. We are in the hunt for a [Central Coast Section (CCS)] title and we are in first place for our division. So the main goal is to win our league," Pereira said.
An avid baseball fan, Pereira began his career playing baseball in the Burlingame Youth Baseball Association, making his presence known as a reliable outfielder and clutch situational hitter. His plate discipline and bunting ability made him a coach's dream in late-game situations, especially when his team needed someone to execute hit-and-runs and sacrifice bunts to advance runners. During his freshman year, Pereira played right field and served as a pinch hitter. Before his sophomore season, Pereira decided to hang up his cleats and incorporate his high baseball IQ into an unfilled position on the roster—team manager. Pereira helped the 2018 junior varsity Panthers go 18-6, a drastic improvement over his freshman team in 2017 that went 6-4.
Recognizing his newfound managerial talent, Pereira chose to hone his skills in a new endeavor, managing the 2018 Burlingame football team. Every game, Pereira would lead the team out of the locker room and videotape every play, all the while ensuring every player had enough water and proper gear. Pereira's dedication proved immensely valuable, as the team went on to secure its second CCS Championship in school history.
"He is the most devoted manager in the PAL," said junior Serra cornerback Liam Kilbridge.
Pereira's success has led to speculation he might seek an NCAA Division I gig as a team manager. However, with an eye toward attending Temple University, which does not have a baseball team, Pereira has higher aspirations in mind.
"The end goal is to work in the front office for a major league team," Pereira said.
About the Writer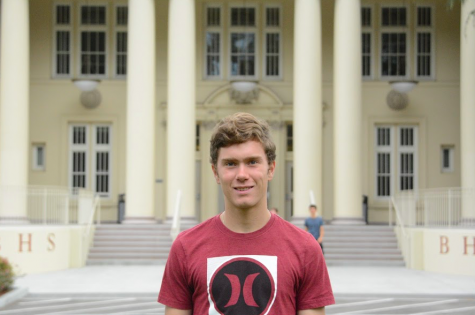 Mark Habelt, Staff Reporter
Mark Habelt is a senior and second year journalism student. In his free time, he enjoys seeing friends, listening to and playing music, and following American...