Moreci champions radical vulnerability in new mixtape 'Camp Cake'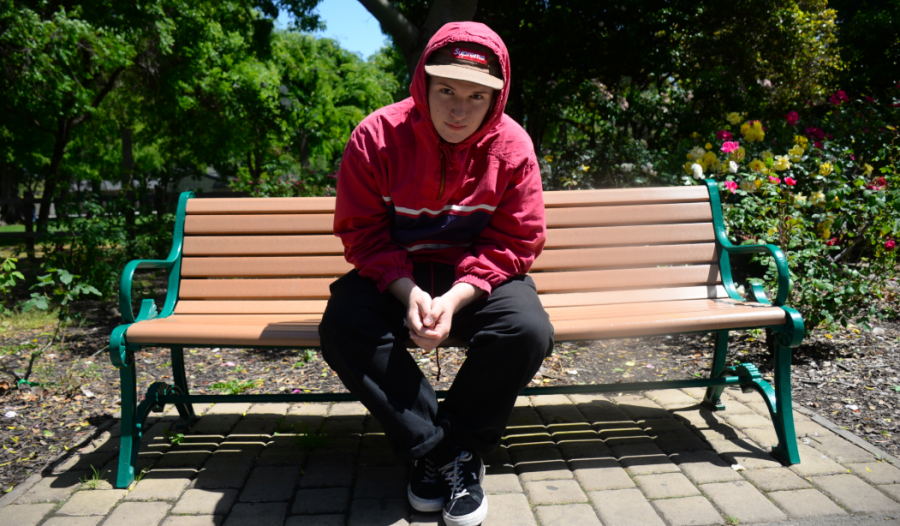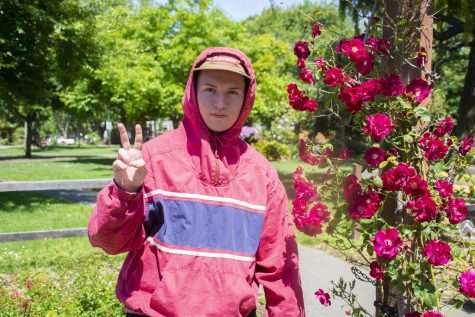 Senior Johnny Moreci, alias JohnnyCakes the Rapper, wants you to know that he has a story to tell. On May 18, he released a mixtape called Camp Cake on Youtube and Soundcloud. As I chatted with Moreci on a bench in Washington Park, he opened up about the intimate anecdotes peppered throughout the seven songs on Camp Cake.
"I want to be vulnerable because I know people will be able to find some sort of meaning and relate to what I'm saying," Moreci said. Fusing elements of old-school hip-hop, acid rap, as well as a Bob Ross audio clip, Camp Cake communicates pain, happiness and everything in between. Moreci leaps from genre to genre with as much agility as a pack of wine aunts at a bottomless mimosa brunch.
"Some of the songs, you can definitely go crazy and dance; and some of the songs, it's probably better if you're sitting in your room, reflecting on your insecurities," Moreci said. Sporting a Supreme brand cap, a red windbreaker and an easy grin, Moreci's appearance belied a certain nonchalance. Several minutes before we sat down to speak about the mixtape, he climbed a tree and dangled from a branch. Yet chalking up Moreci to be just a jokester would be a misstep; between quips, Moreci took on a wistful look as he spoke about his personal philosophy in making music.
Authenticity, he asserted to me, is always the goal.
"A lot of kids, maybe at our school or just in general, think that rapping is trendy or they can get famous or get some sort of 'clout,' as they say. For me, I always feel the need to create, and that was something that just came organically," Moreci said.
Even during his early middle school years, Moreci was hatching plans to make music. Today, he still possesses sketches he made in the seventh grade of possible album covers (he designed the cover of Camp Cake, however, only recently.) In February, following the creation of the second track, Lost Sailor, Moreci decided to produce a full set of songs.
He fell into a writing groove, penning each track in a timespan slightly shorter than a week. On Monday, Moreci would begin scribbling lines in a small notebook he kept in his backpack. By Friday, he would finalize the lyrics until he felt they were polished enough to be produced. On some tracks, he organized lush instrumentation; in others, just his voice and a beat.
"I've talked with people online and built relationships with them to the point that they just give me beats for free because we're friends," Moreci said. "Building those connections, it really feels like there's just such a cool community."
Moreci credits his friend Mitchell Marinaro for showing him the ropes of music production. Additionally, Camp Cake features an abundance of local musicians and rappers, such as Rico Paid, Vylan, Spooky Marvin and Grace Cardinale.
"My whole thing is that I don't want to create a specific sound for myself," Moreci said. He draws inspiration from a variety of artists and bands, ranging from the hip-hop collective Odd Future to the Grateful Dead. Of the latter, Moreci emphasized his appreciation for the band's credo of tolerance.
"I love that ideology of being loving, respectful, judging people not based on who they are on the outside, but who they are on the inside," Moreci said. Coming to terms with adversity and negativity is a theme that winds through Camp Cake. Beneath the playful references to pop culture items like Gordon Ramsey and Reese's peanut butter cups lies a message of perseverance. The mixtape is a study in contrasts: fear and courage; loneliness and friendship; despair and joy. Moreci sets the record straight in his final song, a stripped-down acoustic number called The Thought of You, which conveys a warm hope.
"It would make me so happy if one day my music could reach someone, and maybe it gets them through a rough time. Because so much music has gotten me through rough times," Moreci said. "It would be like returning the favor."
About the Writer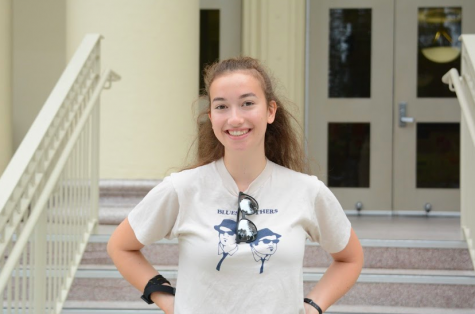 Lily Page, Managing Editor
Lily Page is a senior at Burlingame High School (BHS) and managing editor of The Burlingame B (italicize the name.) This is her third year in Journalism....