Fall Football Preview
Football: 
Following an 11-2 season that culminated in a Central Coast Section (CCS) Division IV crown, the Varsity Panthers will enter the 2019 campaign with a chip on their shoulder as they vie to live up to coach John Philopopolous' 2019 motto, "Do it again." After dominating PAL Ocean Division competition throughout the championship run, the Panthers have joined the Bay Division and will go up against the likes of Menlo Atherton, Sacred Heart Prep, and Terra Nova, all of whom will look to derail any hopes of back-to-back CCS titles for Burlingame. The main storylines surrounding Burlingame primarily regard who will replace the entire 2018 starting offensive line, whether the secondary will be able to hold up amidst injury concerns and the loss of multiple 2018 starters, and which newcomers will provide instant impact upon entering the Varsity ranks. Let's take a look at the state of the 2019 Panthers, position by position:
Offense
Quarterback
Championship-winning senior Jordan Malashus will return under center after starting the final 9 games of the 2018 season and throwing for 979 yards at a 59% completion rate, to go along with 12 touchdowns and 7 interceptions. Junior Wyatt Mcgovern will start the season holding the clipboard after relinquishing the starting position at halftime of last year's 15-13 loss to SHP. In case of emergency, J.V. starting quarterback Ryan Kall will be the third option at quarterback, as he has gotten reps with the Varsity second-team during summer practice. 
Running back
With offensive coordinator Tom Johnson at the helm, the Panthers will again lean heavily on workhorse fullback Luke Meredith (975 rush yards, 20 total TD) as the primary ball-carrier out of the Wing-T set. Rounding out the starting backfield will be Devin Malashus (550 yards from scrimmage, 5 TD) and Dakota Frelin, who add a dimension of lateral quickness and up-field burst to complement Meredith's bruising power between the tackles. Should Meredith ever get a break, Johnson will likely insert senior powerback Leo Epstein at fullback, who has experience running in short-yardage and goal line situations. Behind Malashus and Frelin, look for Seniors Jake Del Rosso and Juniors Cole Sibley and Isaac Frankel, and Elijah La Guardia (317 rush yards, 6 TD on J.V.) to compete for playing time. 
Wide Receiver/ Tight End
Coach Philopopolous will likely start junior Taylor Kaufman (All-PAL First Team WR) and either sophomore Will Uhrich or senior Gino Lopiccolo at the wideout slots. The receiving corps has plenty of depth, as senior Ted Ryan and junior Jackson Giovara ensure Jordan Malashus will have top-of-the-line pass-catchers to target all season. Starting at Tight End will be senior Connor Kall, who averaged 15.3 yards/catch last season. Backing up Kall will be senior Taylor Clark, in his first year back since freshman football, and Joe Schenone, who provides strong hands, a knack for impeccable route-running, and ruthless blocking skills.
Offensive Line
Arguably the biggest question mark on the roster is how offensive line coach Shawn Murray will go about replacing Jack Martinelli, Noah Lavulo, Scott Atkinson, Santana Capristo, and Dylan Neeley, a group of seasoned veterans that combined for 61 pancake blocks and led the way for Luke Meredith, Curtis Lauti, and Youcef Benchohra to combine for 1,841 rushing yards. As it stands, Murray will likely situate senior Jason Barragan at Left Tackle (once he returns from a concussion), senior Cal Stephenson at Left Guard, senior Elliot Skillings at Center, junior Prax Ramirez at Right Guard, and Senior David Zuniga at Right Tackle. (ConThe combined lack of experience (Skillings switched over from tight end this summer, Barragan didn't play last year, no player started more than 4 games on the line) is a cause for concern, especially considering Bay Division defensive lines pose a far more intimidating threat than those from Ocean Division schools like South San Francisco or Hillsdale. However, optimism concerning the offense is in no short supply, especially considering Malashus' deft ability to avoid sacks and Meredith's propensity to gain yards after contact. Neither of these two should be detrimentally affected by a leaky offensive line. 
Defense
Defensive Line
Connor Kall and Joe Schenone will likely replace former PAL Defensive Player of the year Dylan Neeley and departed senior Youcef Benchohra (4.5 TFL in 2018) at Defensive End. On the interior, Defensive Tackles Xavier Bruening and David Zuniga will plug the A and B gaps.
Linebackers
Team captain Leo Epstein will man the middle linebacker position and make pre-snap calls while Prax Ramirez and South San Francisco transfer Josh Joachin will line up as strong and weak side linebackers, respectively. Brayden Miller and Isaac Frankel will provide valuable insurance as backups. 
Secondary
After a stellar junior season, ball-hawk Gino Loppicolo (2 interceptions, 8 passes broken up) will return as the number-one corner and will likely be entrusted with guarding the likes of All-League Wide Receivers Troy Franklin of Menlo Atherton and Dante Cacchione of Sacred Heart Prep. Opposite him will be Taylor Kaufman (1 interception, 2 passes broken up), who will replace last year's starter Leo Bashaw, who is sidelined with a broken wrist. At free safety, Devin Malashus looks to build off his impressive 2018 campaign during which he registered 7.5 tackles for loss, while Jackson Giovarra and Wyatt McGovern will battle for the strong safety job.
Special Teams
Devin Malashus will share kick and punt returning duties with Luke Meredith, while All-League Kicker Taylor Kaufman will handle kicking and punting duties. Jordan Malashus will serve as the holder while Kyle Sieben will long snap. 
Schedule Breakdown: 
Aug. 30 Home vs. Live Oak – 
The Panthers fell to the Acorns 34-22 last season due to four fumbled snaps and other inconsistencies on offense. This should be a winnable game considering the home advantage and BHS' momentum stemming from last season's title game, as well as Live Oak faltering down the stretch last season, losing to SHP 20-0 in the 2018 CCS playoffs. 
Prediction – Win
September 6 At Half Moon Bay
In Week 5 last season, BHS barely escaped with a win over Half Moon Bay, securing the victory with a clutch interception by Gino Lopiccolo to stop a promising Cougar drive with less than two minutes to go. BHS should take care of Half Moon Bay more handily this season, as the Cougars finished the season with a meager 3-7 mark.
Prediction – Win
September 20 At Watsonville
BHS destroyed Watsonville 49-7 in a game that seemed over before it started. Although it will be a long haul traveling nearly 2 hours to Watsonville, Burlingame should win easily.
Prediction – Win
September 27 At Woodside
While the Panthers might be fatigued by the time their third consecutive road game comes around, Woodside does not pose much of a challenge, as the Wildcats finished 4-6 last season, including a 41-6 loss to Carlmont, who lost to BHS 37-0 in last year's CCS Division IV title game.
Prediction – Win
October 4 Home vs. Aragon
Aragon went 2-9 last season and does not look much improved over the summer. As long as Burlingame keeps its composure and does not beat itself, this should be a manageable game.
Prediction – Win
October 11 At King's Academy
BHS beat King's Academy 31-20 last season in a come-from-behind win that featured the Panthers scoring 14 unanswered points in the final period. BHS will need another strong performance from Luke Meredith, who finished the matchup with 248 all-purpose yards and 3 touchdowns, especially since TKA will be seeking vengeance. The Knights finished 11-2 last season and won the CCS Division V championship. Had they beaten BHS earlier in the year, they would have won the PAL Ocean Division and competed for a Division 4 title. The road atmosphere combined with TKA's determination to dismantle BHS will likely lead to the Panthers' first loss of the season.
Prediction – Loss
October 18 At Terra Nova
This will be as evenly-matched as it can get, as the Tigers finished 8-3 and lost in the first round of the CCS Division III playoffs, a close reflection of how BHS usually finishes when it competes in the PAL Bay Division. Expect BHS to grind out a tough victory and beat the team from many of the BHS coaches' hometown of Pacifica. 
Prediction – Win
October 25 Home vs. Menlo Atherton
Menlo Atherton is coming off a Division I state championship and boasts numerous Division I recruits. This one could get ugly in a hurry.
Prediction – Loss
November 1 Home vs. Sacred Heart Prep
The Panthers were a two point conversion away from sending the game into overtime last year. Also, the Gators lost their star quarterback Raymond Price III to the transfer portal, as he will take the reigns at Menlo Atherton this season.
Prediction – Win
November 9 At San Mateo – 
Burlingame has not lost the Little Big Game in years. Don't expect anything to change.
Prediction – Win
Projected Regular Season Win-Loss Record: 8-2
About the Contributor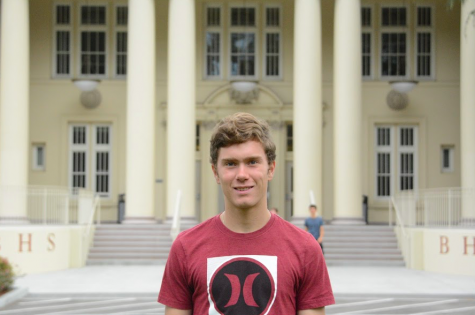 Mark Habelt, Staff Reporter
Mark Habelt is a senior and second year journalism student. In his free time, he enjoys seeing friends, listening to and playing music, and following American...