Burlingame dominates in dual meet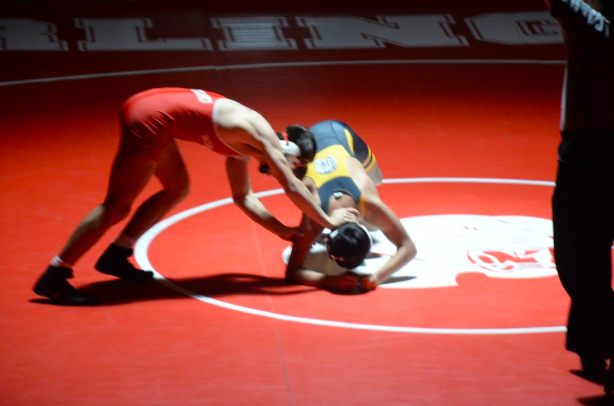 On Thursday Jan. 16, Burlingame hosted their first dual meet, facing off against Terra Nova. As soon as the first match started, it became apparent that it would be a long night for the visiting Tigers as they were outmatched by the Panthers in nearly every matchup. After Burlingame won the only JV match, Varsity kept up the pace with resounding victories in a majority of the remaining matchups.
"It was our first home dual [meet] so everyone was excited… we were all pumped for it," said senior wrestler Kyle Botelho.
In one of the more competitive matchups of the night, Senior Evan Jones faced off against a larger wrestler from Terra Nova, but he stepped up to the challenge in every way. Winning in intense fashion, Jones jumped up to pump up his team after his hard fought win.
"Evan did well. He got a pin for us which was good for points. He was really excited so that made the whole team excited," senior wrestler Kyle Botelho said.
Terra Nova did not send competitors to match every Burlingame wrestler. Seniors Trevor Macko and Josh Wong took home the easy points when no one was sent against them. Kyle Botelho did not quite get the easy road that some of his teammates did, but he had no trouble getting the points for Burlingame nonetheless. Facing off against a clearly outmatched opponent, Botelho took him down with ease after making it through two rounds in a relaxed manner.
Burlingame will take on Half Moon Bay in their next dual meet on Jan. 23.