Community unites in times of COVID-19
At a time during which people are ordered to stay six feet apart, wear masks in public spaces and remain at home when possible, it can be easy for people to feel isolated. In order to combat potential loneliness, community members have found ways to give back and implement small measures in their daily lives to safely remain in contact with others. 
Junior Aaron Becker has been 3D printing parts of face masks which will be assembled by other volunteers and then distributed to medical workers at Kaiser Permanente Santa Clara Medical Center. Becker is involved in robotics at Burlingame and heard about the project, which was started by robotics team members at Monta Vista High School. Becker feels that it is important to give back to the community, and after hearing about the medical community's struggle to obtain sufficient personal protective equipment, he decided to become involved with this project. 
"In this pandemic I think it's kind of my responsibility to do what I can to help. And because I have access to this technology I feel like, 'Why shouldn't I help?' I feel like it's just something I should do," Becker said. 
A new movement has emerged, in Burlingame as well as other cities, in which community members put stuffed bears or other stuffed animals in their windows for children to spot on walks around their neighborhood. People recognized the struggle of being at home with small children and in effort to provide activities, began the game based on the children's book "We're Going on a Bear Hunt." 
Junior Gemma Rice and her family have been trying to stay involved in the community however they can, including participating in the game by adding a bear in their window. Rice and her family also go on family walks during which they check on neighbors and catch up with friends, staying a safe distance away from others. 
"It's important that everybody's helping out the community because coming together is such an important skill, and everyone's suffering and everyone's dealing with stuff in their own way, and coming together just allows people to escape from the hardships they face," Rice said. 
Junior Melanie Gordon feels that these community initiatives, even seemingly small ones, are impacting people in the community positively. Gordon has had more of an opportunity to talk to her neighbors and interact with them in ways she would not have before. She thinks that it is important to contribute in order to keep people's morale up. 
"Quarantine and corona in general are hard for people, and it's negatively affecting a lot of people, so putting things in the window and just saying 'hi' is keeping up the positivity which people need," Gordon said. 
About the Writer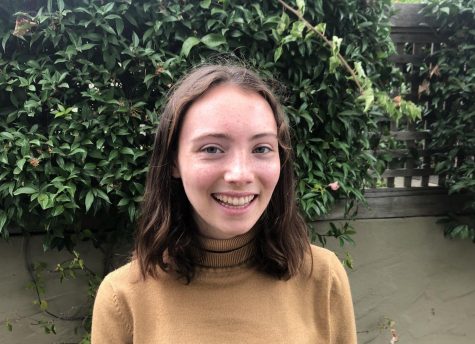 Amelia Harris, Editor-In-Chief
Amelia Harris is a senior at Burlingame High School and is excited to serve as editor-in-chief in her third year of Journalism. She participates in cross...