In a time of crisis, the Burlingame Public Library forges on
For six months, the Burlingame Public Library has been quiet. No guests peek through the windows or tug at the heavy door, waiting for the lights to turn on. No toddlers jump around in excitement for story time. No kids aimlessly search the shelves for call numbers. No teenagers grind their teeth, anxiously studying for tests. Even the customary shushing from ever-watchful librarians has disappeared.  
In early March, as waves of companies and schools announced closures due to COVID-19, the San Mateo County Library System, including the Burlingame Main Library and the Easton Branch, shut their doors to protect public health. By May, the main library offered curbside pick-up by appointment, a contactless process which has continued into the fall. 
Although the outbreak has stabilized in much of California, cases continue to spike around the country. The future of the library is anything but clear. 
"I'm hoping by 2022 that we're back," Jenny Miner, the teen and children's librarian, said. "But, I don't think it's going to be anytime soon unfortunately."
In the meantime, the library has worked extremely hard, rapidly moving events and programs online through live read-alouds and Zoom book clubs. Although these events are generally well-attended, attracting an audience is harder than ever. 
"Just this total pivot to try to figure out what teens would actually want to come to. I know everyone has Zoom fatigue." Miner said. "Generally, I try not to have sign-ups because I don't want there to be any barriers to access. I'm afraid they won't come, so I just try to make everything as easy as possible."
At the same time, amid a slow climb out of economic recession, staffing losses and inevitable budget cutbacks weigh on the library management. At the start of March, the library employed 24 full-time employees and 60 part-time staff. By April, only four of the part-time staff remained. 
"We really can't open and run a library the size of our library without our hourly staff," Bradley McCulley, the city librarian, said. "It really affects the library." 
Although the library's city budget has remained relatively stable throughout 2020, McCulley expects major cutbacks to arrive next year. 
Funding for the Burlingame Library comes from two primary sources: city appropriations ($5.7m planned for 2020) and the Burlingame Library Foundation ($137k support requests for 2019). The pandemic fundamentally threatens both of these sources.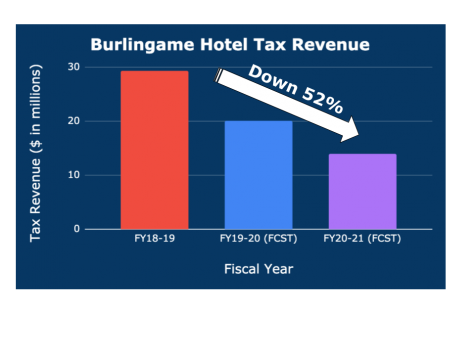 For the fiscal years 2017 through 2019, 37% of Burlingame's general fund revenue came from the Transient Occupancy tax, or hotel tax. By early April of this year, hotel occupancy rates had fallen by 90%, leading to a projected 31% hotel tax revenue loss in fiscal year 2020. And further losses are expected as the pandemic drags on.
On the other hand, the Burlingame Library Foundation is a non-profit organization that raises money by selling books and gathering donations. During this time, the foundation has been unable to earn money, further constricting the resources available to the library. 
Miner already feels the impacts of slowed funding. In the second half of the year, the budget for teen and children's events was cut in half. 
"As far as I know, we are going to have to make everything really low cost next year, until we recover," Miner said. 
On Saturday, Oct. 17, Miner held a sushi making event for teens. When she promoted the event, the 24 available spots were filled within the first day. However, in the future, Miner is unsure if a limited budget will prevent her from holding these popular, yet expensive, activities. 
"Food is not cheap," Miner said. "Doing a big event like the sushi one where I have to buy all the mats and all the food, I don't know if it would be possible to do something like it again. We will just have to wait and see."
Despite roadblocks, the Burlingame Library Foundation has creatively searched for funding. Recently, they earned approval to occupy an empty storefront off of Burlingame Ave. From this destination, the foundation hopes to accept donations, sort and sell books. 
"When the economy goes south, as it has now, people tend to be more reserved about their personal money, so donations start to dry up a little too," McCulley said. "But people are still giving when they are able to, so we are thankful for that."
At the end of the day, the library has, and always will be, a fundamental element of the Burlingame community. For students and families, the library is a place of security, stability and support. 
"When I first moved to Burlingame a couple years ago, the library was the first place we went," freshman Leah Chili said. "It's almost like the people that help you become like a family. Once you start seeing them and talking to them as often my family and I do, you just get really close."
Although there is hesitance and worry about the future, McCulley wants to reassure Burlingame citizens that the library will get through this difficult period.
"We just have to tighten our belt sometimes and do the best we can," McCulley said. "We will get through this. We will still provide books. We will still be open once we are able to. We will do the best we can with what we have."
About the Contributors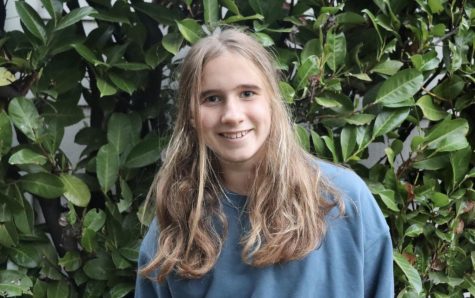 Elise Spenner, Staff Reporter
Elise Spenner is a freshman and first year journalism student. When she is not writing or reporting, Elise loves to play soccer, bake, read, and spend...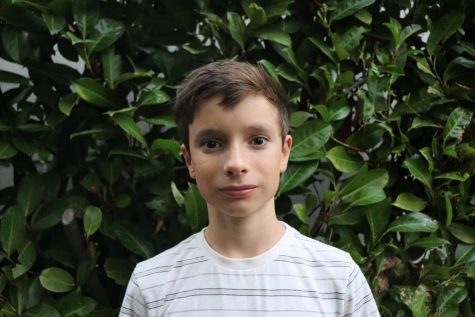 Jackson Spenner, Staff Reporter
Jackson Spenner is a sophomore at Burlingame High School and a first-year journalism student. Some of Jackson's hobbies are listening to music, swimming,...