COVID-19 on the Ave: Your guide to Burlingame's safest restaurants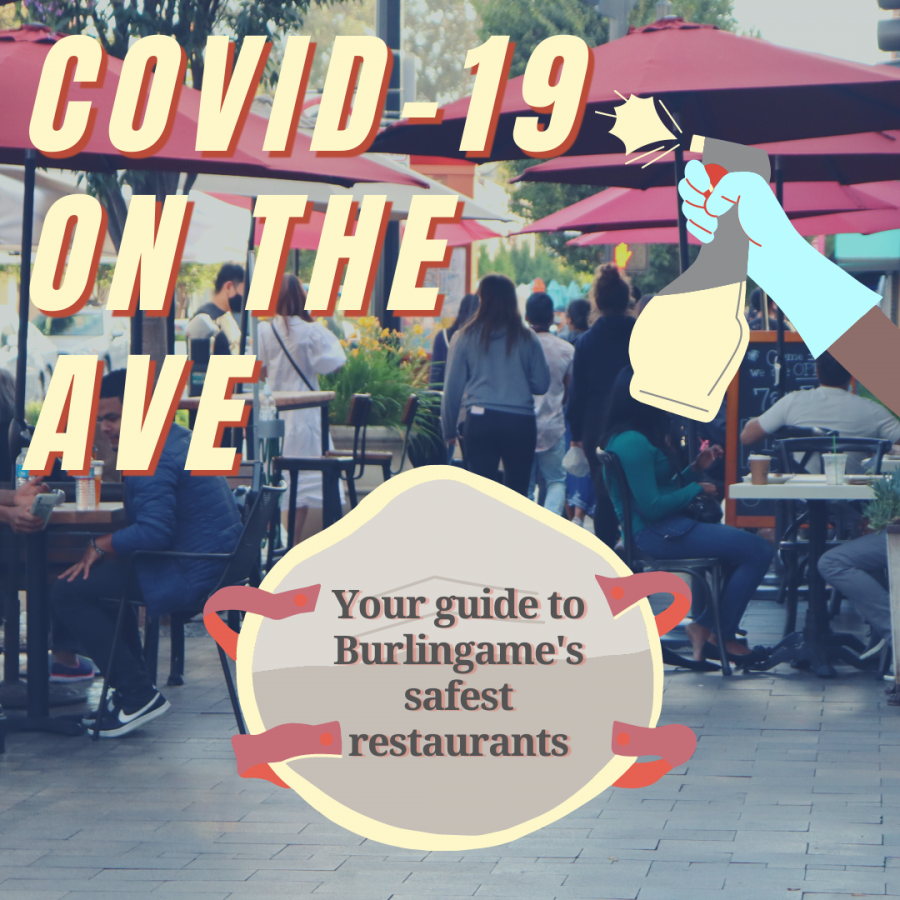 In the seven months since the COVID-19 pandemic began, it has quickly redefined our lives. Our new normal is a constant cycle of masks, gloves, empty hand sanitizer bottles and reminders to stay six feet apart from one another. Restaurants have suffered as a result of the pandemic, having to close their doors and offer takeout options for several months. Now that outdoor dining is permitted in San Mateo County, one question is on the minds of diners: Which restaurants have my safety in mind? Though every restaurant has some form of COVID-19 certification plastered on their door, some exceed expectations for safety protocol, while others hardly meet the mark. After examining local and federal guidelines for coronavirus safety, it became evident that certain key criteria were needed to judge restaurants:
Staff masks?

Staff gloves?

Customer mask requirements

Posted information

Table distance

Distance from passerby

Sanitization provided

Accessibility of pick up 

Curbside pick up? 

Payment methods offered

Payment location

Menu type

Overall cleanliness 

Line/Waiting area
 After detailed inspection and grading of some of Burlingame Avenue's most popular restaurants, here is your guide to dining during the pandemic.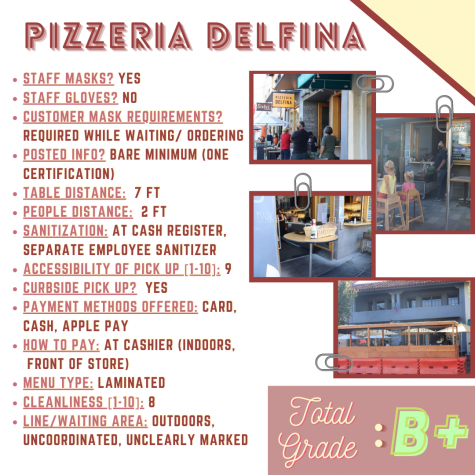 Pizzeria Delfina
Pizzeria Delfina maintains a comfortable, safe environment for its customers, offering plentiful distance between tables, cubicle-like isolated sections, a clean restaurant and an accessible pick-up location. However, Delfina also fails to ensure certain crucial measures for its customers, such as seating customers a reasonable social distance from passerby, which is not recommended by state guidelines. California's industry guidance states that"servers and waiters are required to wear gloves and maintain a coordinated line for those ordering. However, the ease of access for pick-up and take-out allow Delfina to manage a solid grade — a 'B+' in review. Pizzeria Delfina declined to comment on this story.
Caffe Central
Caffe Central is strongest in its clearly-marked indoor ordering area — offering a safe, organized and comfortable space. Where Caffe Central lacks, though, is in its dining area. Tables are hardly separated, cramped together next to the sidewalk. Not only are Caffe Central's customers in close contact with others, they are also exposed to pedestrians on one of Burlingame Avenue's busiest intersections. Furthermore, Caffe Central has a somewhat laissez-faire protocol for cleaning tables, allowing food waste from past customers to sit unattended at tables for long periods of time. The Centers for Disease Control and Prevention (CDC) recommends a "schedule for increased, routine cleaning and disinfection," something that was not evident at Caffe Central. Overall, Caffe Central attained a mediocre-at-best rating, at a 'C'. Caffe Central declined to comment on this story.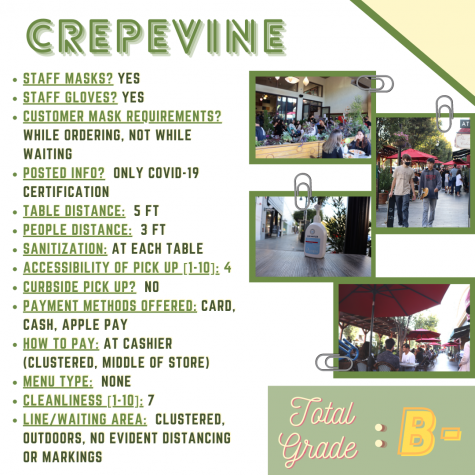 Crepevine
Crepevine, one of Burlingame Ave.'s most popular restaurants, sits at a prime position on the street, offering American cuisine and its signature crepes. Yet, this Burlingame attraction (both in location and food) also creates problems when it comes to providing a safe and civilized eating experience. Crepevine mainly falters in its line structure, with nonexistent social distancing and a cramped, clustered ordering space. Furthermore, Crepevine's curbside pickup location is not clearly marked, causing both delivery services and take-out customers alike to fall  into the same chaotic line as sit-down diners. However, Crepevine does provide unique services in some aspects of its protocol. For example, hand sanitizer can be found at each and every table, and outdoor tables are separated by around five feet of distance from edge-to-edge. Taking a similar approach to Pizzeria Delfina, Crepevine has wooden cubicle-esque barriers at some tables. Overall, Crepevine received a B- when graded for safety. Crepevine declined to comment on this story.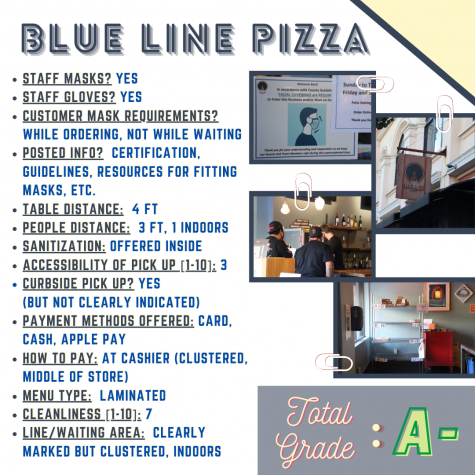 Blue Line Pizza
Blue Line Pizza, a restaurant known for its cornmeal crust and deep dish pizza, stands out most in the information and resources it offers to customers. For example, Blue Line does not merely post its COVID-19 certification like other restaurants, it also provides information about mask fitting, tips for distancing and state guidelines for restaurants during the pandemic. Additionally, Blue Line exceeds expectations for sanitization, frequently cleaning surfaces, mandating employee gloves and offering multiple hand sanitizer options. However, they fail to meet criteria in the organization of  their waiting area, which contains few markings to indicate social distancing indoors and has a clustered area at the storefront. California's state restaurant guidelines clearly state that "Any area where guests or workers queue should also be clearly marked for appropriate physical distancing." Although they do offer curbside pick-up, Blue Line does not  clearly indicate where this can be found. All in all, Blue Line received an 'A-.' Jake Klotzbach, Blue Line's Operations Manager, presented even more detailed information about Blue Line's safety policies.
"We're wearing gloves when we're handling food and delivering food," Klotzbach said. "We're constantly washing hands and sanitizing high contact surfaces, we sanitize our pens after every use, we sanitize our POS (point of sale) screens, door handles, countertops, tables and chairs in between each use." 
However, Klotzbach also recognized that there is always work to be done to improve protocol. Providing past examples of safety guidelines that have come to be accepted as necessary in restaurants, Klotzbach acknowledged that with a novel pandemic, the ability to adapt is crucial.
"When the shelter in place was first implemented in mid-March, facial coverings weren't mandatory," Klotzbach said. "That was something that everybody took a while to learn and catch on to."
Klotzbach also recognized that customer safety needs to remain the top priority for restaurants around the world. 
"It's about training, it's about constant communication, and it's about constant follow-up," he said. "And it's just about building great habits and best practices. I think our team members and other restaurants as well, understand how important it is to follow through."
About the Contributor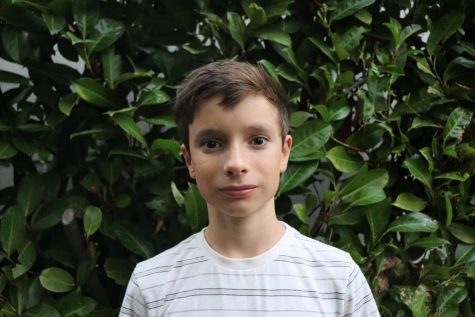 Jackson Spenner, Staff Reporter
Jackson Spenner is a sophomore at Burlingame High School and a first-year journalism student. Some of Jackson's hobbies are listening to music, swimming,...