SMUHSD Board proposes in-person learning
On Nov. 12, the San Mateo Union High School District (SMUHSD) held their monthly board meeting, with the topic of bringing students back to school being on the forefront of everyone's minds.
The Board created a presentation which highlights their goals, ideas and plans for what the next semester will look like. The slides explained a process in which the SMUHSD schools would open in five phases, where each phase slowly lifts COVID-19 safety precautions and regulations, with phase five consisting of a regular school day. Currently, SMUHSD is in phase two, where a few students return to school in pods, but the majority of students are learning virtually through Zoom. The presentation dedicated time to weighing the pros and cons of an in-person learning environment, acknowledging the workload of the teachers, the psychological benefits of learning outside of Zoom and the increased availability of support students would receive in school — if learning in-person.
The Board proposed various renditions of an A/B system, in which half the school would learn in-person, while the other half would remain online at the same time that the in-person half is learning. This would result in teachers needing to simultaneously teach to both students in-person and online, which the Board acknowledged as a con to the system.
Of the various A/B models, one idea was to have all the "A" students arrive at school in the morning, with the "B" students learning online. Later in the day, the two groups of students would flip-flop in terms of which group is at school.
While the first three ideas had many similarities to one another, the final idea proposed was having each grade come into school on alternating weeks, meaning that one grade would remain at school for one week within a month, and the others online. This idea did, however, come with flaws as well, as classes such as world languages and multiple AP classes have a mix of several grade levels. This meeting intended to overview the ideas of bringing back students, but the Board is currently undecided on what model of the A/B system they intend to pursue.
As the Board began to discuss plans for the spring semester, concerns were raised as to whether students would be entirely compliant with the COVID-19 safety regulations that would be implemented across all SMUHSD schools.
"It's not a question of if we come back to school, it's a question of when we come back to school," SMUHSD Superintendent Kevin Skelly said in the meeting. 
In the future, the Board intends to find a way in which they can ensure that all students entering the SMUHSD schools are healthy, though they are currently unsure how they will accomplish this. One thing they are certain of is that students will be required to wear masks at all times while at school. The SMUHSD has made clear that they will take health seriously — going as far as to have health tents if a student or staff member suddenly falls ill to any extent. From the tent, they can be picked up by a parent or, if needed, emergency services. Staff would be tested for COVID-19 every month, and the Board also hopes to test all students with oral swab testing, though the SMUHSD is unsure how often they would conduct such procedures. Classrooms would also be cleaned and disinfected hourly. These implementations will be in effect in all schools, despite which A/B plan the Board decides to follow through with.
When in-person, students will be instructed to not face each other and will also be asked to eat outside. Cafeteria food will be handed out in a grab-and-go fashion, in order to reduce contact between cafeteria staff and students.
After the presentation, several students, parents and staff added their own opinions on the matter, with most pushing for students to return to school in some capacity.
Over the next several weeks, the Board will look into the many ideas drafted and will likely have an answer sometime before the end of the year. The next SMUHSD Board meeting will take place on Dec. 10, where the discussion on bringing students back to school will continue.
About the Contributor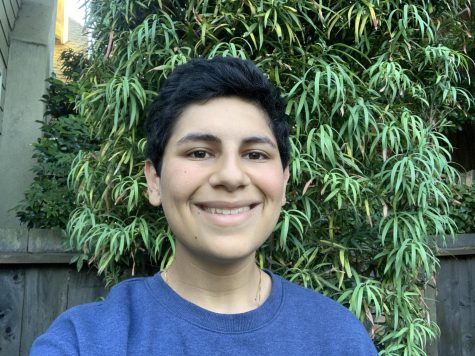 Jacob Lubarsky, Copy Editor
Jacob Lubarsky is a senior at Burlingame High School and a copy editor for the Burlingame B, but also works as a senior reporter and page designer. He...