Burlingame Public Library project unites the teen community in a time of isolation
The Burlingame Public Library created a teen art project in October which allowed teenagers to submit artwork reflecting their feelings in quarantine. This project gave teenagers a voice and platform to display their emotions and maintain a sense of community during this unprecedented time.
"A lot of times people are afraid to share how they really feel, and so when you look at a piece that has the power to actually make you feel something or make you relate to something is really powerful that way," Burlingame High School Senior and participant Sydney Crespo said.
Crespo added that the project offered an opportunity to feel like a part of a larger community. 
"It was just good to reach out to the high school, especially because everyone here probably feels a little disconnected from the communities," Crespo said.
Presenting artwork at City Hall allows students to showcase their feelings and gives them a sense of accomplishment especially in a time when opportunities are scarce.
"Poetry, writing or just making physical art is actually pretty helpful for me and my mental health, just to make a piece that represents how I was feeling," Crespo said.
The project highlights the abundance of mental health struggles students are enduring.
"I thought that art was, you know, top notch, but then just the words that the teens wrote along with it, a couple of them made me cry. I really felt on a very visceral level what they were saying and portraying through their art," Librarian Jenny Miner said.
Miner orchestrated the project along with others on her teen advisory board and felt it was important to give students a space to express themselves. COVID-19 has forced struggle upon many around the world and this project helped teenagers to feel a stronger connection to reinstate the community, especially during the age of Zoom classes and makeshift, at home classrooms. 
"This experience of being in a pandemic is probably … a once in a lifetime experience. I see a lot of people journaling or videos … I feel like it's just important to have some record of what you did during this time or how you felt so you can look back on it," said Crespo.
About the Contributor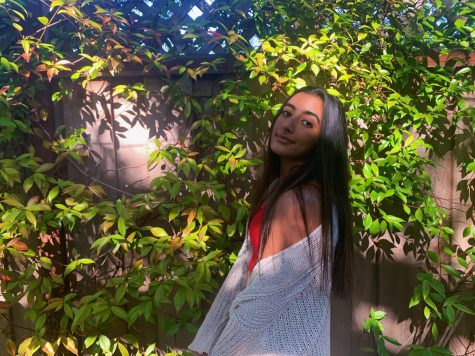 Safiya Loomba, Staff Reporter
Safiya Loomba is a sophomore at BHS and this is her first year as a journalism student. She  dances daily, volunteers, teaches sewing, and of course watches...