A parent's push to rename Burlingame Intermediate School after Ruth Bader Ginsburg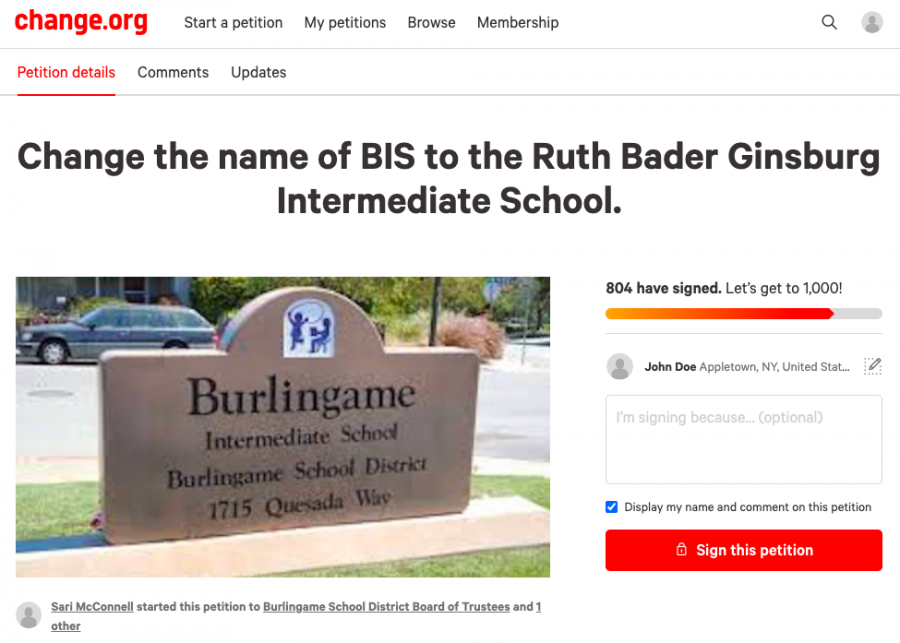 The nation mourned when Supreme Court Justice Ruth Bader Ginsburg died this September. While many people across the nation honored her life and the strides she made for women throughout her 27 year run on the Court, Sari McConnell wanted to do more for the influential political figure. She hopes to rename Burlingame Intermediate School (BIS) after the justice — creating Ruth Bader Ginsburg Intermediate School.
McConnell has been involved in the Burlingame School District since 2008. She also was the Burlingame Community and Education (BCE) president from 2017 to 2019. Despite her recent suggestion to honor Ginsburg, an idea she had out of the blue, McConnell has been a longtime admirer of the justice.
"I have been following her career for a long time… she really [fought] for everyone," McConnell said. 
Thus, following Bader Ginsburg's death in September, McConnell created the petition "Change the name of BIS to the Ruth Bader Ginsburg Intermediate School" on Change.org, a website where users can sign petitions to show support for a proposed idea. As of Dec. 2, the petition had 804 signatures, with support from teachers, students of various grade levels and other members from the Burlingame community.
"There's a lot of heart and a lot of enthusiasm [for this idea] from teachers to parents, and I discovered that … the petition had moved to students," McConnell said.
Similarly, there has been clear support for the idea from the Burlingame School District (BSD). The initiative has been set to be on the BSD Board agenda in 2021 and has already been discussed in previous BSD Board meetings.
"I happen to be a big fan of Ruth Bader Ginsburg, having watched her career as I grew up," BSD Superintendent Chris Mount-Benites said.
BIS has held its name since the school was opened in 1954. It is the only school among the seven schools in the district not named after a historical figure, as its six elementary schools are named after a Founding Father or U.S. president. BIS Principal Pam Scott supports a name change for the middle school.
"I think it's an exciting opportunity. I've never been involved in the process of renaming a school, so this would be a new adventure," Scott said.
While there seems to be widespread support for the initiative, the process of renaming a school involves hefty costs for the change to take effect.
"Just replacing signage and even doing silly minutia like putting up all the new plaques on everything… that cost, if you spread it out over the whole campus, could be significant," Mount-Benites said. "It would be tens of thousands of dollars, and maybe even more."
The way Mount-Benites and Scott see it, the problem is not whether this idea will come into fruition, but rather when it will. Prior to San Mateo County moving into the purple COVID-19 tier, the Board was primarily focused on preparing to bring BSD students back to school on Nov. 30, so although they admired the initiative, they have had little time to discuss the idea.
"I think we've been a little overwhelmed with everything going on," Scott said. "At this point, I'm just waiting on what the Board decides to do as far as the next steps [for renaming BIS]."
Despite the wait, McConnell is determined to see the name change transpire.
"I'm very willing to be extremely patient and working through the challenges of making a name change," McConnel said. "I mean, I just think about kids wearing sweatshirts with 'Ruth Bader Ginsburg Intermediate School' on them. It's just such a powerful legacy and to give the kids in our community that mantle to wear and carry forward, that would be incredible."
About the Writer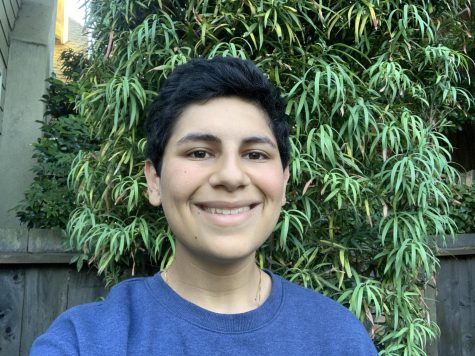 Jacob Lubarsky, Copy Editor
Jacob Lubarsky is a senior at Burlingame High School and a copy editor for the Burlingame B, but also works as a senior reporter and page designer. He...