A gift guide to shopping local Burlingame businesses
Shopping locally is always a good idea, but it is more important now than ever. People are spending more time at home, and storefronts are seeing the impact of decreased customers. While online businesses such as Amazon have seen all-time high numbers of sales, Burlingame's smaller, local businesses are suffering immensely. 
The lack of retail shopping throughout 2020 has dramatically impacted John Kevranian, owner of Nuts for Candy and President of Broadway Burlingame Business Improvement District.
"It's been devastating to our business, as we're only doing between 30% and 35% of our regular business… We were closed for over 72 days, and it's difficult to catch up with bills when your sales are down," Kevranian said. 
Kevranian encourages people to spend less time on Amazon and instead shop locally for the holidays to support Burlingame. 
"We need to do what we can to support our local economy, and when you shop local, local people are hired and 77 cents out of every dollar stays in the local economy," Kevranian said. 
Shopping locally is the inspiration behind SupportBurlingame.com, a website in which people can purchase gift cards to local Burlingame restaurants, stores and services. Visit Support Burlingame to support local businesses online by purchasing gift cards.
But if you prefer to shop in person and give physical gifts, here is a gift guide to some of Burlingame's local businesses for everyone on your shopping list!
Stores on Broadway Avenue:
Tribal Weave Studio
Located just off of El Camino, Tribal Weave Studio solely sells carpets. They specialize in Afghan, Chinese, Indian, Persian, Tibetal and Turkish rugs. Unfortunately, they are going out of business, so they are running a sale with up to 60% off rugs. While this is on the pricier end, it would make a great gift for any home decor fanatic.
Gigi's Consignment
This unique store sells women's consignment clothes and accessories. You can find one of a kind shoes, purses and clothes. Additionally, they have a Christmas display selling trees, wreaths and ornaments. Gigi's Consignment is a perfect place to look for gifts for any feminine people in your life.
William Warmboe & Co Antiques
This is another one of the many consignment or antique stores located on Broadway. William Warmboe is unique in that they sell their antiques on two online platforms in addition to their in-person location. Their Ebay shop features antiques including paintings, pottery and pendants. Their Etsy shop is primarily jewelry such as necklaces, earrings and brooches. Prices range from $48 earrings to $7,500 paintings. William Warmboe's wide range of antiques makes it a great fit for anyone!
Nuts for Candy
This Burlingame candy store has been open for 26 years, and it's no wonder the locals love it so much. As it looks like San Mateo County may head into lockdown with the rest of the Bay Area, the gift of a board game is perfect to stay entertained. Nuts for Candy offers a wide range of board games for all ages, along with card games, toys and of course, candy. They feature a wall of different candies that every high schooler would love to receive.
Pot Pourri
Pot Pourri is a perfect stop to knock off lots of people's presents all at once. The shop features candles, vases, elaborate home decor, soaps, jewelry, masks, bags and more! For any younger siblings or cousins, they have children's toys and books as well. They also have a beautiful Hanukkah display, making it inclusive for anyone on your list. In the back of the store, they have a sale section so you are in luck if you are shopping on a budget. The sale section features books, home decor and stationery perfect for smaller presents or stocking stuffers!
Stores on Burlingame Avenue:
Paper Caper
Paper Caper is a perfect stop to stock up on gift giving essentials. They have a wide selection of wrapping paper, gift bags, bows and cards. They also have small trinkets and office decor that are sure to be appreciated by those working from home.
Del Olivia
Del Olivia is a perfect stop for the foodie in your life. Del Olivia specializes in oils and vinegars, which range from blood orange olive oil to strawberry balsamic vinegar. You can choose to buy singular bottles, or take a look at their extensive gift baskets featuring oils, vinegars, and serving dishes. They have perfect grab-and-go gifts to make your holiday shopping as easy as possible!
Morning Glory
Morning Glory is a beautiful boutique featuring women's clothes and accessories. You can find anything from a cashmere sweater to a leather jacket but the shop also features berets, jewelry and shoes. Stop in and shop for your siblings, friends, or parents.
Floral Art & Decor
Floral Art & Decor is a surprisingly versatile store for anyone on your list. They feature beautiful fresh flowers that would be a perfect gift for your parents. Additionally, they have potted and hanging plants, perfect for your friend with a green thumb. If your friend isn't capable of keeping a plant alive, take a look at their crystals and stones — exactly what one needs for manifesting a better 2021!
Briggs & Riley Luggage Center
Briggs & Riley Luggage Center is unfortunately going out of business, so it is important to stop by while you can! They are having a sale with up to 50% off some of their items. This store is perfect for your friend with aspirations to travel in a post-pandemic life. This store features suitcases, backpacks, purses and travel necessities such as neck pillows and reusable 3oz bottles. Briggs & Riley also sells Swell water bottles, which is a gift sure to please homebodies and travelers alike!
Lacelet Jewelry Gallery
Lacelet Jewelry Gallery is a perfect stop to find beautiful, unique jewelry. While it is on the pricier side, the jewelry is of high quality made with sterling silver and gold. Earrings, necklaces, rings or bracelets are a perfect gift for siblings, friends, parents, or relatives.
Amiko Boutique
Amiko Boutique has two storefronts: one in Burlingame and one in Japantown in San Francisco. This store specializes in Japanese gifts, featuring clothes, toys, accessories, stationery and plush stuffed animals. Perfect for any younger kids on your list, Amiko Boutique is sure to not disappoint with adorable gifts.
Five Little Monkeys
Five Little Monkeys is a toy store that features perfect gifts for all ages with a large selection of toys and games. Cars, dolls, Legos, and stuffed animals only begin to describe the wonders of Five Little Monkeys. However, there is also a variety of different gifts suited for high schoolers as well! If your friend is stressed out with finals, consider giving them the perfect Hannakuh or early Christmas gift of Crazy Aaron's putty to play with! Additionally, Five Little Monkeys features an extensive wall of board games that can be enjoyed by all ages. As COVID-19 restrictions tighten, the time spent indoors will increase. Board games such as Ticket to Ride, Settlers of Catan or Codenames can help to pass the time over winter break, and are certain to be enjoyed by all!
Therapy
Therapy, while technically not native to Burlingame, is a local Bay Area chain. Therapy is a store particularly loved by Burlingame students, as it features small, funny gifts. That said, it is a perfect place to shop for students and parents alike. Cookbooks, candles, satire socks, jewelry and home decor only begin to describe the gifts that Therapy offers. For a one stop shop, head to Therapy!
Les Deux Copines
Les Deux Copines is another fantastic store, as it offers both online and in-person shopping as well. Les Deux Copines is tailored towards women, with a wide array of clothes and shoes. However, there is a gift for everyone, with candles, diffusers and beauty products being sold as well.
About the Contributor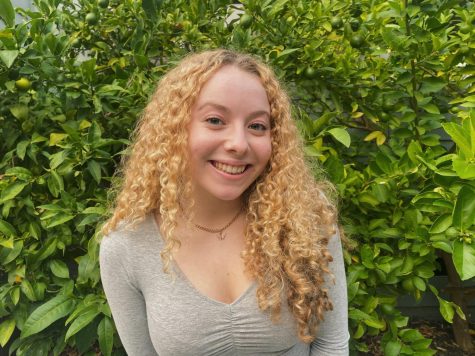 Samantha Johnstone, Webmaster
Sam Johnstone is a junior and the Web Editor for the Burlingame B. When she is not writing articles, she is found in the kitchen experimenting with vegan...