Tahoe dumped with snow and tourists
Tahoe is notorious for its early spring skiing, and as it approaches, many families may be looking to head up to the snow. In the past week alone, Tahoe has received around 50 inches of snow, enticing many to travel up for the fresh powder.
However, San Mateo County stated in a press release on Jan. 22 that "the state advises all Californians to avoid non-essential travel – that is tourism and for recreation — more than 120 miles from home."
Tahoe is located around 200 miles from Burlingame, meaning that heading up to ski is not advised by the recent guidelines. That being said, if one chooses to still travel, there are heavy restrictions in the Tahoe area to keep both tourists and locals safe. 
There are five main ski resorts in Tahoe: Northstar, Squaw Valley, Alpine Meadows, Heavenly and Kirkwood. Northstar, Squaw Valley and Alpine are located in Placer County, while Heavenly is in El Dorado County and Kirkwood is in Alpine County. Placer and El Dorado County are both in the purple tier, and Alpine County is in the red tier. Due to the differing counties, restrictions vary for each resort.
 In Placer and El Dorado Counties restaurants are allowed to have outdoor dining or takeout, while retail stores are operating at 25% capacity. Outdoor activities such as hiking, biking, snowshoeing or skiing are still allowed, granted that indoor spaces such as ski lodges are not open. 
On the other hand, Alpine County is permitted to have restaurants open for indoor dining at 50% capacity in addition to outdoor seating and takeout. Retail stores can hold up to 50% of capacity. 
On Jan. 13, all three counties were lifted from the state-wide stay-at-home order, drastically reducing previous restrictions — most notably allowing short-term rentals to resume. Prior to this, many Airbnb hosts were continuing to rent out homes and apartments to tourists, despite restrictions specifically prohibiting this, creating conflicts with the locals.
"I definitely think [tourists] should do their best to follow the guidelines … And if they do choose to [come up] … I hope they would bring their own groceries [and] only gather in the same household," Truckee resident Kate Gladman said. 
Gladman noted that her husband, Aaron Gladman, is an ER doctor at Truckee's primary hospital, Tahoe Forest Hospital. She explained that the hospital only has six ICU beds, meaning that as Bay Area residents flock to these small ski towns, the possibility of hospitals becoming overrun with COVID-19 cases is certainly possible. 
Although most Burlingame students are tourists to the Tahoe area, some families do have second homes. Owning a second residence enables one to freely travel back and forth from Burlingame to Tahoe, even during heavy restrictions such as the stay-at-home order. 
This is the case for senior Georgia Edmondson, whose family has relocated to Squaw Valley for the time being.
"We moved to Tahoe in May after we found out school would not go back in session in-person," Edmondson explained. "While we ski, we all are careful to always wear our masks and distance to the best of our abilities." 
Edmondson also warns that despite the pandemic, the mountain is still crowded with skiers, especially after the recent blizzard. 
Skiing in Tahoe this season is certainly still a possibility, but it is very important to ensure all county and state guidelines are being followed.
"I just hope that [tourists] think of all the people here who don't have the privilege to stay-at-home, and that they make the best choices they can for our community," Gladman said.
About the Contributor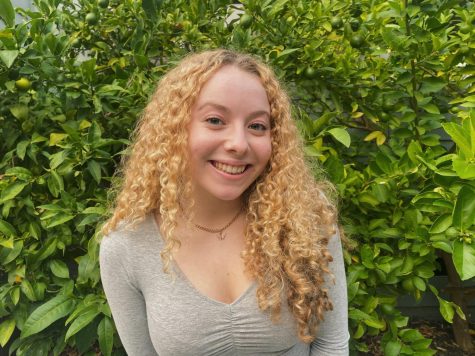 Samantha Johnstone, Webmaster
Sam Johnstone is a junior and the Web Editor for the Burlingame B. When she is not writing articles, she is found in the kitchen experimenting with vegan...