Bay Trail flood project gives residents first taste of climate protection program
In 100 years, much of Burlingame will be underwater due to rising sea levels. In fact, estimates from San Mateo County predict that in a century, Burlingame will see 452 acres underwater, putting nearly all of Old Bayshore Highway and Highway 101 at risk of sustained damage. 
Gone will be the hotels that line Airport Boulevard, providing nearly 40% of the city's budget funds. Gone will be the infrastructure that makes up the city's sewage and wastewater treatment system. And, most frighteningly, gone will be hundreds of homes.
"In 2018, FEMA performed a coastal study and released a preliminary map which became effective as of April 5, 2019," a notice on the City of San Mateo's website said. "An estimated additional 176 additional addresses could be added to the high-risk zone."
So, beginning in the fall of 2020, the City of San Mateo began the North Shoreview Flood Improvement Project (NSFIP), renovating pumping stations and raising a 1,300-foot levee on its border with Burlingame. The project is estimated to cost upwards of $28 million and last until 2023.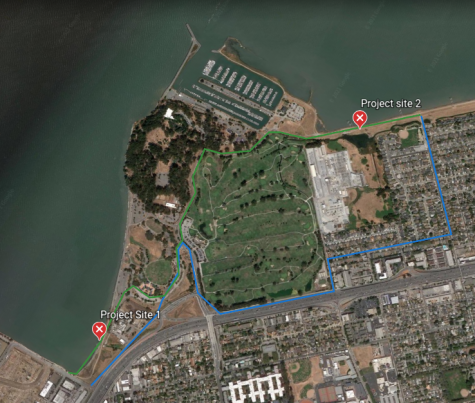 The flood project has created  major detours on the Coyote Point Bay Trail, a small piece of the 500-mile San Francisco Bay Trail that spans 47 Bay Area cities. The route offers a unique place for residents to take in views of the San Francisco Bay Area and breathe in the sea air. During the pandemic, the Coyote Point Bay Trail has created a space for Burlingame students to exercise outdoors, with many students having discovered the area for the first time this past summer. 
"I've basically only gone to the Bay Trail during the pandemic," said Isaac Van-Voorhis, a freshman and avid biker. "It's very difficult to get outside in these times, so finding any excuse to do it is definitely helpful."
Sophomore Marco Rice, who also discovered the trail over the summer, has had a similar experience as Van-Voorhis. On weekends, he and his family visit the Bay Trail to spend time together biking, running and taking in views of the bay. 
"I went a couple weeks ago, and there was a pretty big detour and everything," Rice said. "But it's not a big deal if the construction is there to make sure it's safe."
Van-Voorhis, who visited the area recently, wasn't dismayed by the barricades and detours either. He plans to continue using the space, regardless of the construction situation. 
"You can't get the great bay views because there are barricades blocking the coast," Van-Voorhis said. "But the detour isn't very difficult. It isn't quite as scenic, but you can still get to Coyote Point." 
Van-Voorhis sees the NSFIP as a step in the right direction in preparing for the future, regardless of its impact on outdoor activities. From his perspective, residents are fortunate that the City of San Mateo took the time to keep the trail open amid such important construction. 
"Projects like this definitely make sense to do because the waters are probably going to get far higher than what we're even projecting," Van-Voorhis said. "It makes sense to prepare for the worse while we still have time to do it."
About the Contributor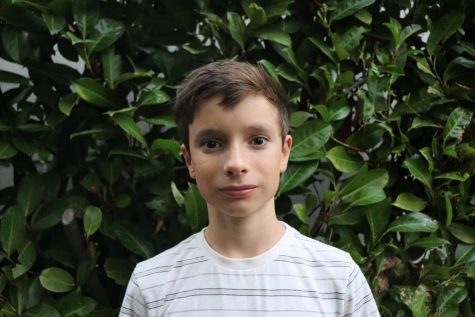 Jackson Spenner, Staff Reporter
Jackson Spenner is a sophomore at Burlingame High School and a first-year journalism student. Some of Jackson's hobbies are listening to music, swimming,...