Cross country seniors celebrate their first and last home meet of the season
Saturday, March 5, was not a typical senior night for Burlingame High School's cross country team. For starters, the celebration happened during the morning, before the team's first home meet against Mills High School. 
Greeted by parents and family members, runners from the class of 2021 took to the field on Saturday morning to celebrate their last year competing as Panthers. One by one, they posed for photos, laughed together and basked in the rising sun. 
There were no hand-made posters, no sentimental snacks, and certainly no hugging, as all festivities were limited to a distance of six feet. But still, for the dozen-or-so graduating runners, it was a moment to remember.
"I was so excited for senior day; it's nice to have a home meet," senior Sydney Roncal said. "I'm just happy to be here with my team and to cheer people on." 
The meet had its highs and lows for the rest of the team as well. Burlingame's girls squad trounced Mills — who only had one runner — on the two-mile course, sweeping the podium. Freshman Cora Haggarty won with a time of 12:04, followed by sophomore Ellie Neumen in 13:38. 
On the boys side, Mills took the victory, winning the top four places. Burlingame freshman Ariunbold Purev-Chang placed fifth with a time of 11:55. 
Like most of the sports world, the 2020-2021 cross country season has been unpredictable. In a typical year, cross country races take place in the fall, with CCS and state championships following shortly after. However, due to the pandemic, the season began in the winter and extended to early spring, posing a unique experience for Burlingame's runners. 
"For me, it was a rough start to the season," senior Bing Lin said. "We started training in the middle of winter and that wasn't good. I didn't run for a month beforehand, so I'm still getting back in shape."
The team will end their season with a meet against Hillsdale High School on March 27 and time is running out for the runners to find normalcy in their strides. Still, in times like these, a chance to show some team spirit and race is cause for celebration. 
"I'm looking forward to running on our track for the first home meet," Lin said, before his race and senior ceremony. "We still have more meets, but this feels special… we're hosting and all my friends are here."
About the Contributor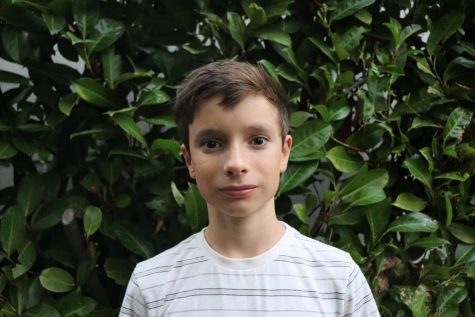 Jackson Spenner, Staff Reporter
Jackson Spenner is a sophomore at Burlingame High School and a first-year journalism student. Some of Jackson's hobbies are listening to music, swimming,...