Girls tennis aces the season, on and off the court
Before each match, the girls tennis team has a routine they follow religiously. They gather in a circle — distantly. The entire team begins to clap slowly — a raucous but organized beat. Over time, the clapping speeds up. Then, five seniors' voices rise out of the cacophony. 
"Panthers on me! Panther on three! One, two, three Panthers!"
This Tuesday, the lucky cheer seemed to work for Burlingame in their match against Hillsdale High School. In a chaotic afternoon match, the Panthers trounced Hillsdale, winning six out of the seven matches. With singles and doubles games running simultaneously on the Burlingame courts, the home team battled through blustery weather.
Freshman Mila Mulready — Burlingame's top singles player — did not drop a game in her match, winning 6-0, 6-0. Although the wind frustrated her at the start, she quickly found a groove. 
"Wind is not fun for a tennis player," Mulready said. "But when the wind slowed, I got a rhythm with my shots and I wasn't shaking anymore. That's when I started to feel really confident."
In order to compensate for Hillsdale's smaller team, Burlingame's doubles players rotated off the court after one set. While this shortened the playing time for many girls, it sparked closer competition in some of the matches, prompting Hillsdale's only victory.
Overall, Burlingame's win against Hillsdale followed a trend of success for the team — with state guidelines that only allow for in-county competition, the season has lacked many of their top opponents.  
While this year may have less competition, playing the same teams multiple times provides a way to measure progress. By the end of their season, Burlingame will have played the five other teams in the San Mateo Union High School District twice. 
"We're seeing dramatic improvements, up and down the lineup, especially the last four weeks," head coach Bill Smith said. "We 're doing better against the same opponents in the second half of the season."
Tuesday, however, was not just about dissecting the spin of a serve or examining the quality of a return shot. As the last home match of the season, it was 'Senior Day,' and underclassmen celebrated the seniors on the team with balloons, boba and baked goods. 
After their matches, the teammates huddled together, posing for photos, sipping their drinks and laughing together. Tennis may be scored in points and sets, but the opportunity to connect with a group of lifelong friends is the real win for senior Elisabeth Weimar.
"Tennis has just been a great experience and it wasn't just about competition, there were other aspects like forming friendship," Weimar said.
When Mulready joined the high school team, tennis transitioned from an individual sport to a group activity. After years of playing alone in junior tournaments, she now has the support of friends and teammates in every match. 
"Tennis for me has been such a loner sport," Mulready said. "I've always been by myself so it's nice to have [my team] around me to support me and it's nice to meet new friends too."
For some, tennis provides some sense of normalcy in an abnormal year. Out on the court, the players may be socially distanced and unable to high five after an especially nice volley, but they can still play, and Coach Smith recognizes the power of that.
"You're on the court, you see the masks, but it's so familiar to what you know," Smith said. "For a while, you can forget. So, I think that it's more than excitement, I think it's relief."
While Smith supports the team-bonding and camaraderie, he is most proud of his players' development over multiple seasons. The match that received his highest praise was not a shutout or a massive victory — it was a tie against Capuchino High School. In that game, Coach Smith saw JV players excel —players who had no knowledge of tennis in middle school.
In her years as a tennis player, Weimar has also enjoyed watching teammates develop and grow alongside her. 
"I remember when a lot of these juniors were freshmen and we were all starting out together," Weimar said. "It's really awesome to be able to see how much they've grown throughout the last couple of seasons."
About the Contributor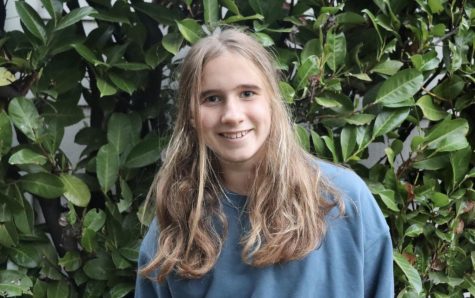 Elise Spenner, Staff Reporter
Elise Spenner is a freshman and first year journalism student. When she is not writing or reporting, Elise loves to play soccer, bake, read, and spend...