Seniors question a return to in-person learning to finish high school careers
Many students dream of their senior year in high school, full of fun activities and bonding with their peers. But this past year, seniors will likely miss out on many opportunities and quintessential senior occasions such as prom and senior activity week. With school reopening on April 1, seniors have many factors to consider in their decision to return to school or remain online. 
Senior Helen Zhan does not plan on going back to school for the last few months. She is worried about the level of COVID-19 cases and does not want to contribute to an uptick in case numbers.  
"Personally, I am probably not going to go back [to school]," Zhan said. "If we all go back at the same time, because [the status of the situation] just got a little bit better, I think [the pandemic] might go back to what it was like before."
On the other hand, senior Noah Larkin will be returning to school on April 1. He misses being able to casually greet people in the school halls and is eager to be able to do so with caution.
"I'm really, really excited. I feel like it [will] be really nice to see everybody," Larkin said. "I hope it's done safely, so we can stay in school and maybe open up more guidelines as things progressively get better and people get vaccinated."
In connection with the vaccines, Zhan thinks that those who have not been vaccinated should try to stay home as much as possible.
"I feel like we [should] go back when most teachers are vaccinated. Or students who are already vaccinated or [those that] feel the need to go back to school should go back," Zhan said. "But [for] the rest, if you can stay home, you probably should, so I'm probably staying home."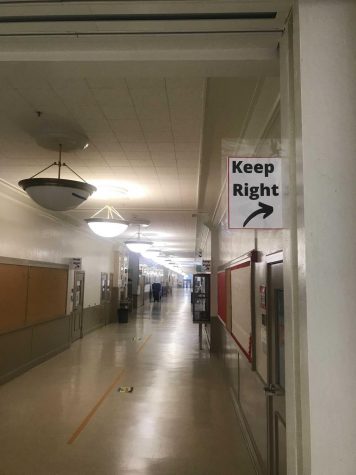 The school sent out a Google form at the beginning of March giving students the opportunity to indicate whether they wanted to return to school or finish the year online. Senior Carrie Lei initially responded that she would be interested in returning, but has since decided she doesn't want to go. Lei feels that going back seems unsafe. However, on a positive note, she has found some benefits to distance learning in terms of how students function.
"I'd say this whole situation really pushes students to adapt. With everything being online, it's harder to learn but it also pushes us to be more independent," Lei said.
The seniors' teachers have been understanding of the workload and preparing for tests during distance learning, but there are numerous reasons why students want to go back to the Burlingame campus to learn.
"The first thing that comes to mind would obviously be the health factors. But then the pros would be getting to see some people, kind of like getting that sense of normalcy back," Lei said.
Seniors recognize that in opting not to return, they are sacrificing their final days of high school. The pandemic was harsh on seniors because it caused them to lose what was supposed to be their exciting end to many years of hard work in school.
"As a senior… a pro definitely [would] be [that] this is the last time we're going to be able to do this," Larkin said. "So it's kind of nice to be able to see the people that I've spent the past three years with for the last time before we all head off our separate ways."