Racial bias in the Grammys impacts our generation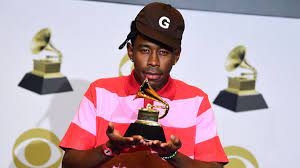 Lizzy Wan, Senior Reporter
April 2, 2021|1,778 Views
The 63rd Annual Grammy Awards took place on Saturday, March 14. The Grammys are highly coveted awards that are sought after by musicians across the globe. However, the Grammys also have a long history surrounding controversy about racial bias in their awards. 
Winning the Album of the Year award is one of the highest honors among Grammy's awards. White-dominated genres like pop, country or rock tend to win the Album of the Year. In the 60+ years that the Grammys have been held, only 10 Black artists have won this prestigious award. When an artist wins a well-respected award like Album of the Year, their music automatically receives much more publicity. For example, radio stations often celebrate these artists and recognize their success by playing their music more frequently than less decorated albums. This creates a cycle where we primarily listen to white artists, making it harder for artists of color to succeed in the music industry. 
"I believe that Black and AAPI [Asian Americans and Pacific Islanders] creators are not given as big a platform because society wants us to normalize white creators," sophomore Erika Jiang said. "The reason for the disparities in the success of people, apart from the POC [People of Color] and any underprivileged group, is that they are not given the same opportunities as their counterparts. Therefore, when people applaud and feed into the culture, they are further harming our Black and AAPI brothers and sisters."
Artists like Tyler, the Creator highlight the racist undertones in the Grammy categories. In 2020, Tyler, the Creator won the award for Best Rap Album. In a backstage interview with the Grammys, he talked about the gratitude he has for winning the award but goes on to mention how he doesn't appreciate that Black men are often put in the urban and rap categories because he feels that they are all part of pop. He feels like the award is more of a backhanded compliment. 
Teens looking up to artists that look like them plays an incredibly important role in their self-confidence. When teens see themselves represented in the media, they realize that they can become successful in the music industry as well. As Tyler, the Creator pointed out, with the creation of a Best Rap Album category, Black men are often put in this category away from their white counterparts. Tyler, the Creator's "Igor" album wasn't necessarily a rap album, but it still won the award for Best Rap Album. The isolated categories send the message to aspiring artists of color that they will never have equal opportunity to their white competitors. Ultimately, this is discouraging to young teens who want to join the industry, as they are under the impression that they will not be treated equally simply because of their skin color. 
"I believe that if my ethnicity isn't properly represented in the industry, I would feel discouraged to join the industry as I would have less of a chance to succeed," sophomore Ethan Wan said. 
Black artists including Frank Ocean, Kanye West, JAY-Z and Sean (Diddy) Combs have all refused to attend all future Grammys until they make a change due to the Academy's racial bias towards white artists. Prior to Combs's hiatus from the Grammys, he stated in a speech at the 2020 Pre-GRAMMY, "Black music has never been respected by the Grammys to the point that it should be." This reveals how strongly many Black artists in the industry feel about the racism they face at this award show. 
Most recently, The Weeknd declared that he would boycott the 2021 Grammys. Despite an incredibly successful year, The Weeknd received no Grammy nominations. When nominations came out, many of his fans were furious. In a tweet, The Weekend said, "The Grammys remain corrupt. You owe me, my fans, and the industry transparency…"  
When this year's nominations came out, Kanye West, Nicki Minaj and Zayn Malik also took to Twitter to express their frustration. All the artists used the platform to express the issues they see within the Academy and the racial bias they have faced from them. Even though the Grammys are a huge name with lots of influence over the industry, artists still feel it's important to use their platform and speak out even though they could face repercussions. 
Teens seeing these artists of color stand up for themselves against a major company that has enormous power in the music industry is incredibly inspiring. It is much easier to stay silent rather than speak up, especially against such a powerful group of people. For young adults, seeing someone unafraid to use their platform and influence for what they believe in is empowering to watch. Speaking up also shows aspiring artists who feel discriminated against by such a major company that others understand their frustration with the industry. This doesn't just apply to music, it teaches teens to stand up for the right thing even if it seems big and scary.
"When I see a celebrity, like Zayn Malik, use their platform to stand up against a big corporation like the Grammys, it is inspiring. It encourages others to use their voice as well, no matter how big the adversary may be, or in this situation, the Grammys," freshman Purvi Jain said.
It's not only people of color who see the issue. As the racial bias becomes more evident artists are growing more cognizant of this issue and are also pushing for more diversity. White artists have been supporting Black artists by giving them the recognition they deserve. In this year's Grammys, Billie Eilish won Record of the Year for her song "Everything I've Always Wanted." In her acceptance speech, she stated, "I was going to write a speech about how [Megan Thee Stallion] deserves this, but then I was like there's no way they are going to choose me." Eilish went on to repeatedly say "you deserve this," in reference to Megan Thee Stallion, who was also nominated for her rap/hip-hop hit, "Savage."
Representation in the Grammys is more important than ever — not just for the current artists in the industry, but for those who hope to be part of it in the future. Music from artists of all races and backgrounds should be celebrated equally, and it is necessary to show artists of color their importance in the industry to empower a younger generation of musicians.