Track and field sprints, jumps and somersaults into a new season
When Burlingame hosted its first track meet of the season last Monday, April 19, the team's running prowess, camaraderie, and determination were on full display — as was their startling gymnastic talent. 
The loudest cheers and most audible gasps came when junior Rachel Burdick finished her 100-meter hurdle race by turning a stumble into an elegant somersault. 
"Anytime that you fall in gymnastics, usually you roll because you don't want to injure your leg or knee by hyperextending it," Burdick, who was a competitive gymnast for 10 years, said. "I was just like, make it to the finish line."
Perhaps Burdick's somersault finish is a larger metaphor for the track team. After a year-long hiatus and uncertainty about the season, the team seems to have landed on their feet in the first meet against El Camino High School.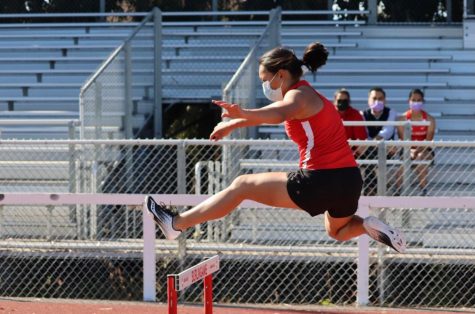 Hosted by Burlingame in the blazing sunshine, athletes showed their talent in a diverse set of events, including relays, sprints, long-distance races, shot put, discus and long jump.  
While Burdick's spur-of-the-moment somersault was easily the most awe-inspiring and dramatic moment of the meet, each athlete learned lessons and cherished accomplishments.
Freshman Coraline Haggarty won both the girls 1600 and 800-meter races, while senior Viviana Bautista claimed first place in the girls 400 and 200-meter events for Burlingame. Senior Bing Lin gained new personal records in his 1600 and 800.
"When we shut down back in March, I was like 'Oh no, what am I going to do?'" Lin said. "But after today, I'm feeling great and I'm ready for the rest of the season."
On the outside, the meet may have seemed like the idyllic start to a long-awaited season, but head coach Chris Coleman acknowledged the stress and chaos that came with hosting a track meet — especially the first of the season and the first in the new era of COVID-19. 
"There's a lot to take care of with the equipment, making sure we can record everything for times," Coleman said. "And making sure, especially right now, that all the athletes are safe, so it really takes a lot of work."
Even under normal circumstances, track and field is a hectic sport. But with the help of generous volunteers and student athletes, the team is able to control the chaos and build a community.
"That's what the sport's about," Coleman said. "There is a lot of winning and losing, but I think with track, there is a big community where everybody helps out and that's what [we saw on Monday]."
For freshman Avah Reichow, this generous and inclusive community provides a new way to connect with fellow students and forge lasting friendships.
"I have a relay team, so I've met three other people that I did not know in the beginning of the year," Avah Reichow said. "It's given me an opportunity to make some more friends and get to know the school."
The sense of sportsmanship and fellowship on the Burlingame team was tangible, with athletes deciding to compete in additional races on the fly, crossing the finish line in packs and constantly rooting each other on.
By the 3200-meter race and the 4×400-meter relays, the stands had thinned out and most athletes had already run multiple events. Yet, there was still loud cheering and hollering as athletes pushed their way through the final races. 
Even between the Burlingame and El Camino teams, a general informality and geniality was clearly visible, with coaches and players on both sides chatting and joking.
"Even though it's really individual, you can still feel the team aspect," Reichow said. "Everyone cheers everyone on, and everyone helps out. I don't know — it's a good team."
About the Contributor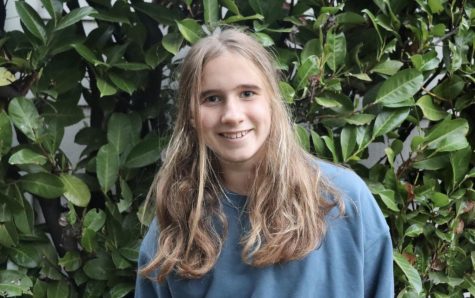 Elise Spenner, Staff Reporter
Elise Spenner is a freshman and first year journalism student. When she is not writing or reporting, Elise loves to play soccer, bake, read, and spend...