Boys varsity tennis season starts up for the first time since the start of the pandemic
As of April 13, Burlingame's boys varsity tennis season officially began, and two days later, the Panthers had their first game against San Mateo High School. On April 27, the Panthers celebrated their first victory of the season against Hillsdale High School, winning 4-3. The game was tied up until senior Austin Daga won the last match, culminating in a win for Burlingame.  
Daga took some time off of playing during quarantine to rest and stretch. He resumed playing tennis this season on Valentine's Day. 
"I've practiced a lot less during quarantine, so I guess [I've been] getting back into the rhythm," Daga said. 
There are two tennis courts that each contain four individual courts within the area. During most of the matches, one court was set for athletes playing doubles and the other court was filled with those who were playing singles.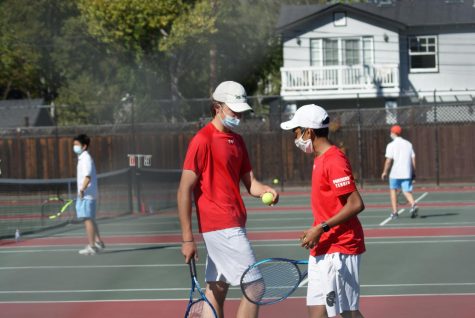 Bill Smith, coach of both girls and boys tennis teams, is pleased with the way Panthers are playing this year. The girls tennis teams, who played at the beginning of this year, had gotten through their whole season without any COVID-19 cases. Smith says the boys team has gotten by just as easily and recognizes that they are happy to be able to get out of the house.
"The chance for them to get out and do something other than sit and look at a laptop screen all day has been great," Smith said. "And the parents have been even more happy because they're out doing something active."
This season, the team will only be playing the league season. There are no tournaments, and Smith wants students to simply enjoy playing the sport. He wants to give his players the positivity and motivation they need while playing. Smith understands the importance of his role as a coach and is impacted by the players as well. 
"Burlingame especially has some very bright, talented individuals, beyond the sport. This year, [seniors] will be moving on to great schools and good futures. And if I can just be a part of making sure they get there, then that's a good enough reward," Smith said.
About the Contributor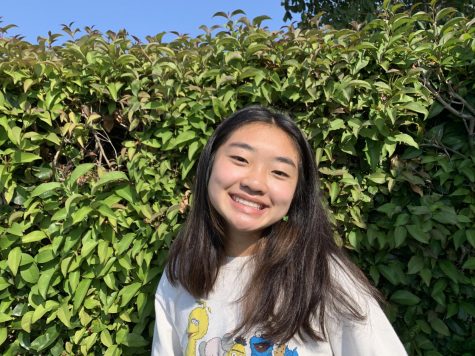 Kristie Kim, Staff Reporter
Kristie Kim is a sophomore at Burlingame High School and is a first year journalism student. She is the youngest of three and loves the holiday season....