Peninsula High School: speaking out against neglect
On Sept. 20, 2021, the San Mateo Union High School District (SMUHSD) held a ribbon-cutting ceremony at Peninsula High School to celebrate the opening of a state-of-the-art facility for the continuation school. Teachers, staff, students and parents gathered while Superintendent Kevin Skelly spoke at length about the new facility and all that it would offer to the Peninsula community. 
But when the time came to cut the ribbon, students and staff, whom the campus was for, weren't holding the scissors; it was district administrators. And even with large, ceremonious scissors, the ribbon wouldn't cut — they tried, but it just wouldn't tear.
"It was so telling and representative of what we're actually going through because… they could not cut that ribbon. It was like — how symbolic," said Elaine Llaguno, the guidance counselor at Peninsula. "It was their opportunity to glorify what they thought they provided. And we felt like we were forced to be thankful for what we have."
The dichotomy was jarring, said Caroline Wisecarver, an English teacher at Peninsula: the district presented the facade of a beautiful campus, while ignoring the structural deficiencies and inequities at Peninsula.
Lara Montoya, the only wellness counselor at Peninsula, could sense the frustration emanating from the surrounding teachers. When Skelly called the teachers to the stage, Montoya rallied the staff. Montoya, who prides herself on being uplifting in difficult times, led them in the school chant. The alma mater modifies the lyrics of Queen's "We are the Champions" to "We are the Pumas" in homage to Peninsula's long-standing mascot.  
"I could feel everybody's weight," Montoya said. "I was like, 'We need to liven this up!' I didn't want the outsiders looking at our staff like, 'I didn't think I would look like that.' Not knowing in our minds, we were like, 'You're so full of crap. This is not ok!'"
For years prior to the move, teachers and staff tried to hide their growing dissatisfaction with the treatment of Peninsula — the disrepair of their previous campus, the staff shortages, the dwindling resources — but the ribbon ceremony felt like the final straw.
"As much as I want to stand by the district just to kind of keep the facade for our students and our community, because we don't want them feeling like our district doesn't care about us, … [the ribbon-cutting] was a big eye-opener for myself and for the whole community, as well," Llaguno said. "Because it was just like, 'You're celebrating all the things that we don't have!'" 
Not less than two months later, on Nov. 17, 2021, the Peninsula community sent an open letter to the SMUHSD Board listing their cumulative grievances with the district. The letter cited repeated requests made from Peninsula staff that the district did not act on.
The district subsequently arranged a meeting between Peninsula staff, Skelly, SMUHSD leadership, Board President Peter Hanley and Board Vice President Linda Lees Dwyer.
While the meeting proved positive intentions from administrators and the Board, it failed to generate an action plan, Wisecarver said at the Jan. 20 Board meeting.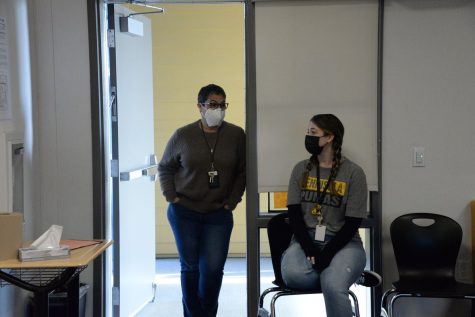 However, when Peninsula requested a spot on the Board agenda during which community members could speak to cited grievances and trustees could weigh possible redress, their application was denied without explanation. Wisecarver was only able to speak because the President of the SMUHSD Teacher's Association, Craig Childress, gave up his allotted time to her.
In response, Peninsula teachers, parents, students and community members stormed the public comment section of the Board meeting, expressing their support for Peninsula and their disdain with the district's inaction in the face of demands. 
Wisecarver called the Board out for their inaction. In 2021, she said, staff came to the district to report higher scores on the district-wide Panoramic survey — measuring engagement, student-teacher relationships and sense of belonging — and encouraged administration to visit Peninsula. 
No one did.  
"Last year, we asked for you to see us," Wisecarver said. "This year, we demand to be heard."
While the district has agreed to take action — searching for additional space, endorsing "beautification" of the current campus and listening to recommendations from staff — the treatment of Peninsula isn't just about the present situation, staff emphasized. For years, the list of "things that we don't have" at Peninsula has grown longer and longer. 
When Crestmoor High School closed in 1980 due to declining enrollment, Peninsula opened at the San Bruno facility to serve students that don't succeed in the traditional high school setting or are behind in earning the credits to graduate. Today, Peninsula is also home to the 35 students in the English Language Development Bridge program at the San Mateo Adult School. 
As of the 2020-21 school year, 430 continuation high schools across California served 78,000 students between the ages of 16 and 18. Peninsula offers students the same diploma students would receive from a comprehensive site; however, it gives them more flexibility in graduation requirements with lower instructional minutes, alternative opportunities to receive credits and individualized wellness support.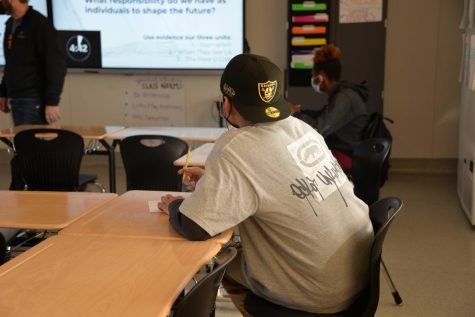 Less than 5% of students at Peninsula were forced to transfer to the school for disciplinary reasons. Rather, most students voluntarily enter the school for further academic support in a new social and learning environment. However, staff at Peninsula struggle to fight against the idea that their school is a form of punishment or discipline for students.
"Some [high schools] really use it as more of a resource: 'Hey, you're behind, here's a chance to get caught up,'" Ron Campana, the principal at Peninsula, said. "Others use it as like, 'If you don't ship shape up, we're gonna send you to Peninsula,' like some type of penalty or 'this other place.'"
With this mentality, Wisecarver questioned how the district could stand by their anti-racist initiative and its promise "to continually identify, disrupt and eliminate institutional biases and barriers to ensure that all students have the skills and knowledge to thrive."
In the 2020-21 school year, 75% of students at Peninsula identified as Hispanic or Latino, more than two times the district average of 33%. In contrast, Peninsula had only 14 white students (7%) and four Asian students (2.3%), while white and Asian students make up a cumulative 48% of the SMUHSD student population. 
Simultaneously, 81.7% of students at Peninsula are classified as either current English learners, Fluent English Proficient (FEP) or Reclassified Fluent English Proficient (RFEP). FEP or RFEP designations mean that the student was once an English learner, but is now considered proficient in the language. 
"While our numbers may be smaller than the comprehensives, does that mean we deserve less of that mission work?" Wisecraver demanded of the district. "Our students are your students. Throughout the district, we are being asked to focus on the margins. We are the margins."