Future of masks at Burlingame unknown, what to do?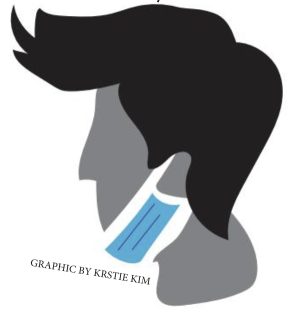 Last Monday, Gov. Gavin Newsom announced that the indoor mask mandate lift will apply to public schools, though masks are still strongly recommended in classes. It goes into effect on March 12, almost two years after Burlingame closed schools in response to the growing threat of COVID-19. Just after Newsom's announcement, the San Francisco Unified School District declared that their schools would not be taking part, and neighboring counties often follow their lead. However, San Mateo County has yet to publicize their decision. 
As a low-risk county, allowing vaccinated students to remove their masks during school hours sounds fine on paper. San Mateo County's vaccination rate for ages 12 and up is 96.7% as of Feb. 27, and 70.4% of Californians are  fully vaccinated as of Feb. 26. 
However, relaxed masking protocol won't only impact those present in the classroom. Students and teachers still have vulnerable family members at home: children under the age of five who aren't vaccine-eligible and high-risk immunocompromised relatives and neighbors. While most of our school community might not suffer from going unmasked, lifting the mandate will still have ramifications for friends, neighbors and loved ones. 
As we move towards an endemic approach to COVID-19 — accepting that the virus will remain a peripheral, but not central, presence in our daily lives — it is imperative that we continue to meet the needs of the least comfortable and most vulnerable members of our community. 
First, teachers deserve a say in their classroom policies. If a teacher has an immunocompromised relative at home, they should have the right to ask all students to mask up. But if another teacher tolerates unmasked, vaccinated students then that's their prerogative. 
Furthermore, under Newsom's policy, only vaccinated students will have the option to remove their masks. Because vaccination status isn't and shouldn't be public knowledge, ensuring that all unvaccinated students keep their masks on will be nearly impossible. Teachers and administration need to be aware if their students aren't vaccinated, so they can stay as safe as possible in the classroom.
Last week, the Hillsborough School District announced that it will allow all students, regardless of vaccination status, to remove their masks indoors starting on March 14. This is not a safe or responsible option for Burlingame, as we have a significantly larger student population. 
It is important to recall how the omicron and delta variants came to be — we got lax with safety restrictions. If and when another variant emerges, it is likely to be more transmissible than the omicron variant or more virulent than the delta variant. As variants evolve, the protection provided by antibodies and vaccination will likely wane. As a result, we shouldn't get attached to optional masks at school; if we've learned anything over the past two years, it's that COVID-19 is far from predictable. 
On March 12, masks could be optional in the classroom for vaccinated students in San Mateo County. But the pandemic isn't over, and we shouldn't act like it is.