Varsity girls' softball suffers loss against rival San Mateo
Burlingame's girls' varsity softball team (4-9-1, 0-5 Peninsula Athletic League (PAL) Bay Division) lost their recent games on April 7 against Capuchino High School, 0-5, and St. Ignatius College Preparatory 4-15 on April 11. 
Capuchino is No. 3 in the PAL Bay Division and St. Ignatius plays in the competitive West Catholic Athletic League.
On Tuesday, April 5, Burlingame played against rival San Mateo High School at home. The final score was 0-11, with pitchers sophomores Kasy Lyons and Tatiyana Moraga throwing throughout the game.
Right off the bat at the top of the first inning, San Mateo gained four runs before Burlingame was able to force three outs; two of them at first base and one through a fly ball caught by Lyons, who was pitching. 
At the bottom of the inning, Burlingame's first three batters got out, although sophomores Olivia Fleming and Lily Grenier were able to make contact with the ball. Fleming hit a fly ball to center field, and Grenier hit a ground ball to third base and got out at first.
"Once the score started rising we just got down on ourselves, which is something as a team we need to work on" Moraga said.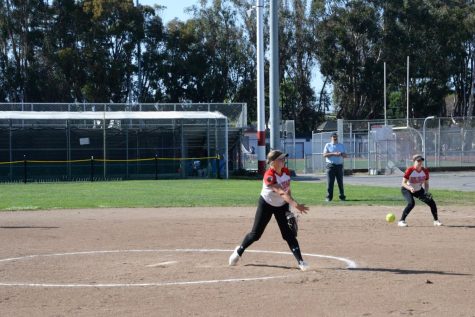 During the second inning, Lyons struck out San Mateo's first batter. Later, an error at shortstop allowed a batter to get to first base. However, the team was able to get two outs at first base from senior third baseman Katherine Carrington and second baseman Fleming.
During the fifth inning, Fleming got on first base after hitting towards right field. Junior Emmi Cate then hit a far fly ball out to center field, but the outfielder caught it. 
Later in the inning, bases were loaded, with Carrington on second and Flemming on third, but with two outs, the inning ended without a run from the Panthers. 
Moraga, who began pitching during the last inning, notes what she hopes the work will work on.
"A team goal would just be to always pick each other up even when we make silly mistakes and just always supporting each other and being super positive on and off the field," Moraga said.
Freshman Giana Johnson has played softball with both recreational and club teams. Through years of experience, she understands the importance of being able to move past mistakes.
"I learned that nobody is ever going to be mad at you for making a mistake unless you dwell on it or if you hurt the team with your attitude," Johnson said.
After a hard loss, the team's spirits were low, but players knew to look forward and acknowledge areas of improvement.
 "It was a very tough loss. I thought that the girls today played [decently], they could have played better," coach Mitch Oliver said. "I think we need to work harder at practice to become more of a team, so we'll have a little bit of team bonding and we'll come back strong."