Tanforan: from internment camp to mall to biotech campus
Due to various company bankruptcies and the rising trend of online shopping accelerated by COVID-19, the San Bruno City Council has authorized the closing of The Shops at Tanforan and Tanforan Century Theater. Its decline was clear to council members by July 27, 2021, when they issued the "Reimagining Tanforan Land Use Fact Sheet," encouraging property owners to invest in a new Master Plan. Investors, current property owners and San Bruno City Council have already begun master planning and environmental review processes.
"I've been visiting the mall ever since I moved to the U.S., so seeing it go means removing this memorable place," junior Derek Chan said. "It also might make shopping less convenient from now on. I always thought Tanforan was a good location for a shopping mall since it's between Serramonte and Hillsdale."
The mall currently features many national chains, including Target, Barnes & Noble and Bath & Body Works, but has also lost businesses such as Forever 21 and Sears because of the previously mentioned bankruptcies.
Freshman Angelina Xu recognized the mall's downturn as well. 
"Personally, I don't feel like it's too much of a loss," Xu said. "I'm sure it contains a lot of memories for other people, however I can't speak for everyone… people might lose a mall close to them."
Alexandria Real Estate Equities bought the property in November 2020 and plans to remake it into a biotech campus, innovation hub and around 1,000 housing units. The commercial real estate services and investment firm, CBRE, is putting a focus on carbon neutrality and open green spaces for both private owners and public use. According to the San Mateo Daily Journal, groundbreaking will likely begin around 2024.
"I support how they would be adding 1,000 housing units, especially during a time where housing is becoming more and more inaccessible. An innovation hub is good too — advancing technology is always needed," Chan said.
Memorial Plaza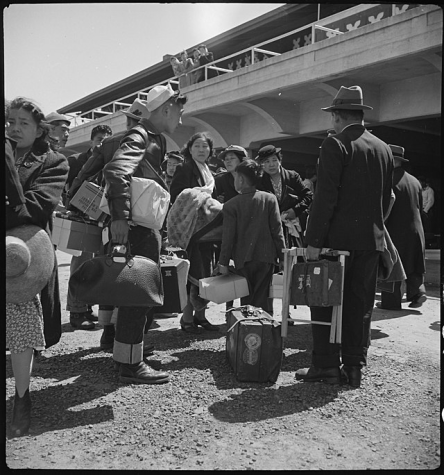 Along with the new property, the Tanforan Assembly Center Memorial Committee (TACMC) has plans for a memorial plaza and a bronze statue to confront Tanforan's past. The 44-acre mall was once the second most populous Japanese internment camp during World War II. The statue will feature two young Japanese children waiting for a bus bound for the Tanforan Assembly Center, based on a photo by famous American photographer Dorothea Lange. 
Groundbreaking for the memorial already occurred, as well as the installation of benches and a horse stall, which many Tanforan internees were forced to live in. According to Rafu Shimpo, the dedication ceremony is set for May 23. 
Internment camps were meant to prevent Japanese Americans from being spies or siding with Imperial Japan during World War II. Large Japanese populations in coastal Western regions made the government particularly wary, as an attack on the coast was a prevailing threat. Japanese Americans, citizens or not, were forced to abandon their homes, belongings and businesses under brief notice and transfer to camps in the desert — mainly underpopulated or desert areas such as Topaz, Utah. No Japanese American spies were ever found.
Tanforan's role as an internment camp began in April 1942. Early arrivals discovered the camp was clearly still a horse racing track and lacked basic facilities. There was only one mess hall, one laundry room and eight toilets for what was soon to be thousands of people. Although facilities eventually increased, that did not solve the struggle of internment nor the reality that their basic and constitutional rights were denied. Despite resistance, the Supreme Court of the United States ruled the relocation order constitutional in 1944, in Korematsu v. United States. 
Japanese American junior Sumire Masubuchi reflected on the minimal recognition she felt the community showed towards the past. 
"Even my parents, who knew about the Tanforan race tracks, didn't know about the Japanese incarceration camps," she said. "I think it really like shows the lack of commemoration for the Japanese Americans who were wrongfully imprisoned. It makes me feel as if people want to erase that painful part of history when it needs to be talked about and remembered."
The very purpose of the memorial, however, is to prevent that. TACMC's mission is to "ensure stories are remembered and that this injustice is never repeated against any peoples." Previously, Tanforan mall had a small commemorative garden and a plaque recounting the history of the mall. About a decade ago, TACMC created a photography gallery in the San Bruno Bay Area Rapid Transit station. The photos, also by Lange, are of Japanese American families destined for internment at Tanforan. TACMC accompanied Lange's photos with those of Paul Kitagaki Jr., who re-photographed the very families Lange documented 70 years later. The gallery serves as a grave reminder that Japanese internment was a relatively recent event.
"I was shocked that these camps existed so close to my home and felt ashamed that I didn't know about this until a few weeks ago," Masubuchi said. "It horrifies me knowing that my family and I could have been sent to these camps too if we lived here 80 years ago, just because of our ethnicity."
The TACMC is a part of a larger movement to reconcile with this history. In 2018, the Supreme Court overturned Korematsu v. United States. In 2020, the California Assembly apologized for Japanese internment and met with former victims. 
Burlingame students admitted mixed feelings towards the memorial. Its purpose and intention are important, but whether people are going to be aware is still under question.
"I'm sure it makes a lot of Japanese people feel seen and helps them realize that the struggles of their ancestors are recognized," Xu said. "But I don't know if it will make a difference, because I, like most people, don't pay a lot of attention to statues in places like malls and plazas."
Chan echoed Xu's opinion, hoping that the community would fulfill the memorial's intention.
"I think that bringing awareness to the history behind Tanforan is definitely going in the right direction, but I don't think that most people in our community would care or know much about the history," Chan said. "But having the statue there, in my opinion, is the city doing their best to bring awareness. The rest is up to the people to learn and acknowledge."