Review: Palmetto Superfoods
It's official: Burlingame Avenue is getting its first taste of the acai bowl trend. On July 30, Palmetto Superfoods opened its doors just a short walk away from the Burlingame campus, offering a modern spin on healthy treats. The stylish spot has quickly grown in popularity, but the question remains: does it live up to the hype?
Palmetto opened in place of Yogurtland, which closed in December 2021 after nine years in Downtown Burlingame. I've been to Palmetto about four times since the takeover, and each time I go, there is a busy line of people waiting to tap their orders away. 
About that tapping: ordering at Palmetto is simple — all you need to do is use the tablet to place your order, and the employees get right to it. Personally, I think this is a minus. I love interacting with cashiers — not just to make conversation, but to help me get to know  the team making my desserts. 
By contrast, ordering on a tablet feels like a reminder of artificial intelligence's takeover of human jobs. It is convenient, though — and great for people who would rather just skip the niceties, cut down on time and reduce confrontation. Admittedly, there is only one tablet, which can hold up the line a bit, but the service has always been relatively quick.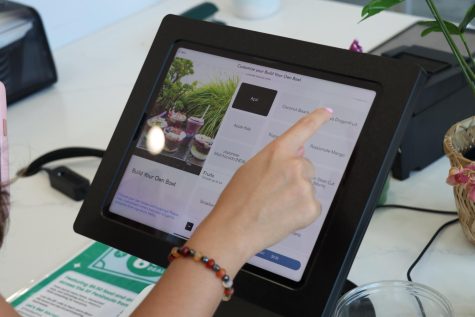 Palmetto's aesthetic is a perfect companion to its acai bowls. With green plants, well-lit decor, nice benches and a mirror, it hit all of my marks for a trendy food spot.
On Aug. 20, I visited Palmetto Superfoods with three other journalists to test out different items on the menu. We ranked each based on six categories: taste/flavor, texture, fruits, toppings, price and presentations. 
At Palmetto, you can customize your bowl order — picking your base, granola, fruit, and toppings — or choose from one of their pre-designed options. The list of possible flavor combinations is endless: bases range from chia pudding to apple kale, and toppings include a variety of seeds, nuts, berries, butters and powders.
I personally opted for a smoothie because I am a smoothie fanatic. I love their simplicity and abundance of fruity flavors, but my personal make-or-break factor is a smoothie's thickness.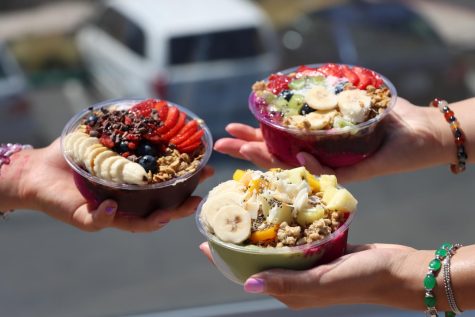 I got Palmetto's Midnight Beach smoothie. To be honest, it wasn't the prettiest smoothie ever: the color was a gray charcoal. Despite its unappealing color, the smoothie was refreshing and tasty; I loved the thickness and flavor. I am not a huge fan of bananas, but this smoothie had only a subtle banana flavor. However, if you're the kind of person who buys a drink and takes hours to finish it because you're a slow drinker who likes to savor their smoothie, I do not recommend it. This is a drink that is best cold, and due to the hot weather on this particular day, it was a quick and easy drink for me. My rating was 14.5/20.
Jake Rothstein, head photographer at the B, had a Palm Blend bowl with matcha, pitaya, tropical spirulina and acai bases. Like all of the bowls, it came with plenty of toppings: fruit, coconut, sweeteners like honey and various seeds and nuts. He compared the matcha to matcha ice cream, because of its flavor and creamy texture. According to Rothstein, the matcha paired well with the pitaya. Also known as dragonfruit, pitaya has a kiwi-like texture interspersed with seeds. In the bowl, pitaya provided a bright pink base for toppings. 
Rothstein, who isn't a fan of coconut, thought the flakes were too sweet for the bowl. He wasn't a huge fan of the acai base either, and ironically, all three of the acai bowl tasters agreed that it was not their favorite. Overall, after totaling his calculations from all of the categories, Rothstein rated his experience as 23.5/30.
Sophia Bella, sophomore and copy editor, ordered the Bay Blend bowl. She has been to other acai bowl spots, including the Palmetto Superfoods in San Francisco. She believed that the San Francisco  Palmetto store, where she previously tried the Bay Blend, did a better job of delivering on flavor. Bella did enjoy the acai bowl, especially the bases, but noticed that the goji berries stuck in her teeth, and she received too much granola. Her overall rating was 24.5/30.
Amanda Nolan, senior and social media manager, got the custom build-your-own bowl. Nolan's bowl consisted of acai, pitaya, mangos, banana and granola. This is the kind I've always gotten, and I love that you can mix and match so many bases with all of the different kinds of fruits. All three tasters got the smallest size bowl, eight ounces, and Nolan said she liked the ratio of the toppings to the bases in that size. She didn't like the acai because it was icy and had seeds, but she did like the other bases, especially the pitaya. For her bowl, there was also too much granola and too little honey. Nolan's overall rating was 22.4/30.
Everything in our area is pricey nowadays, and Palmetto is no different. This was a pricey spot, but many have said it's worth it. Ultimately, that's up to you to judge. For the B staffers, price was the category that brought all of our ratings lower. But other than that, the refreshing desserts were a yummy treat for a hot day, and Palmetto is worth a try for Burlingame residents.
Leave a Comment
Donate to The Burlingame B
Your donation will support the student journalists of Burlingame High School - CA. Your contribution will allow us to purchase equipment and cover our annual website hosting costs.
About the Contributor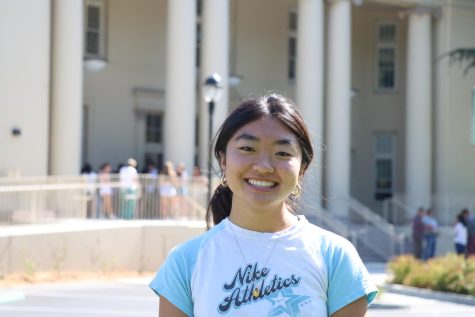 Kristie Kim, Social Coordinator
Kristie is a third year journalism student in journalism looking forward to her senior year at Burlingame! This upcoming year, she is super excited to...