Varsity football's legendary league opener: 16 seconds and a dream
With just 16 seconds left in the fourth quarter of Thursday, Sept. 29's match against Aragon High School, varsity football head coach John Philipopoulos took a timeout. Down 10-7, with 33 yards away from the end zone and an opposing crowd chanting "I believe that we will win," it seemed like the game was over.
But, in a moment of brilliance, the Panthers went for the touchdown.
"Coach P told [Joey], 'Joey, just get into space, don't get tackled and find Lukas, whatever it takes,'" senior running back Lukas Habelt said.
It was an ending no one was expecting. It was just too perfect: a pass from quarterback Liam Friedman to running back Joey Nawrocki, who threw the game-winning touchdown pass to Lukas Habelt. Although the Dons attempted a final touchdown attempt with seven seconds left on the clock, tight end Zach Shapiro intercepted Aragon's hail mary, securing a 14-10 Burlingame victory in their first league game of the season.
"It was unreal. It's just straight out of the movie… We really came together," said Habelt. "I think we just found that rhythm [with] 90 seconds left to go in the game."
The game started off with Burlingame taking an early lead. After a first-quarter touchdown by Shapiro, the Panthers were able to hold the Dons scoreless until the second quarter, when an Aragon field goal made the score 7-3. 
The game continued with possession alternating between the two teams until the fourth quarter, where Aragon managed to secure a touchdown and a subsequent field goal, seizing a three-point lead. It remained anyone's game, but time was running out, and Burlingame needed to act fast. But Friedman, Nawrocki and Habelt came through with a miracle. When the final whistle blew, Burlingame fans stormed the field.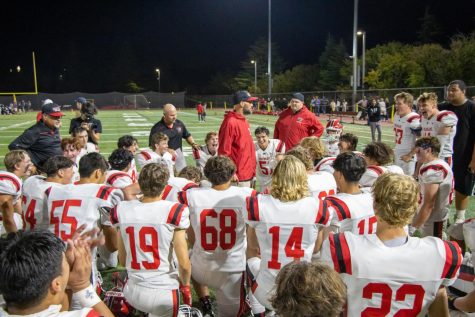 Beyond the drama of the final seconds, the victory was a sigh of relief for the Panthers. Two weeks earlier, the team suffered a tragic loss to Homestead High School, allowing 22 points in the fourth quarter after leading for the majority of the game.
"The Homestead game was probably one of the toughest losses of my career, and this is definitely one of the biggest events, and all the credit goes to these kids," said head coach John Philipopoulos. "I couldn't be more proud. It's just what the doctor ordered."
Burlingame plays their next game at home against Menlo-Atherton on Oct. 7.
"I feel really good. I mean, [Menlo Atherton is] definitely a tough team. They always have been a really good program, but we're finally at home, we've been away the whole season," linebacker Danny Hilt said. "I think that if we have a good week of practice, we can definitely put on a show."