Panthers dominate in second win against Dons with postseason looming
With a week left in the season, girls' varsity water polo (6-1 Peninsula Athletic League (PAL) Bay Division) beat Aragon High School 13-3 on Wednesday, Oct. 12, solidifying its No. 1 spot in the division.
Burlingame's co-captains captured the lead before Aragon touched the ball when a long pass from senior Natalie Sullivan Wu found senior Alex Gratch, who tossed it back to Sullivan Wu for a goal. 
The Panthers' defense barricaded the other side of the field. Junior Stella Wettan guarded the goal throughout the first half and 'dry passed' the ball to the offense after every blocked shot.
An aggressive press on defense, efficient movement across the pool and patience in front of goal all contributed to the Panthers' second triumph over the Dons this season. 
"I'm really confident with how we played today," Senior Lily Hartley said. "I think if we keep playing like this we're going to win PALs and CCS." 
As the postseason looms, assistant coach Robert Fleming will fine-tune the team's fundamentals during practices in preparation for more challenging opponents in the coming weeks.
"We're trying to emphasize making passes under pressure, not turning the ball over, communicating with one another [in practices]," Fleming said. "One of the biggest things we're working on is communication."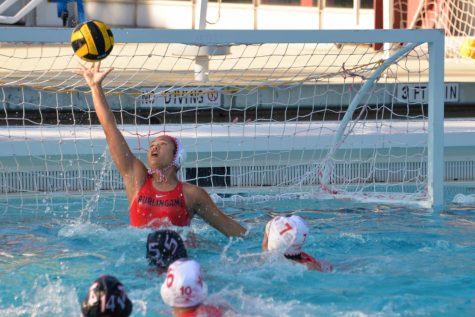 As a water polo player himself, Fleming recognized the team's potential from the start of the season. But game after game, he has noticed their strategy and teamwork improving, which has helped propel them to the top of their league. 
"The more and more we play, I see a corresponding rise in general awareness. That is also something I'm most proud of," Fleming said. "They are starting to understand more naturally the flow of the game." 
With just two matches against Menlo-Atherton High School and Notre Dame High School, Belmont left in the season, the Panthers are hoping to enter the playoffs on a high note. For the reigning PAL champions, the stakes couldn't be higher.
"As a senior and it is my last year, I'm hoping to get as far as we can as a team," senior Esther Kim said. "I know if we work hard at practice and set our minds to it, we can keep playing hard as long as we can."