Burlingame falls to SHP in second league loss in a row
"So close, yet so far" was the name of the game for the Burlingame offense during Friday night's matchup against Sacred Heart Preparatory (SHP), as they repeatedly pushed the ball into enemy territory, but failed to score. 
The Panthers fell to SHP 24-0 in what initially looked like a close game — they trailed by just seven at the end of the first half — but slowly unraveled in the latter stages.
Just as they've done throughout the season, SHP was able to establish the run early. But Burlingame held their own in the first half, limiting big runs, making key plays all over the field and holding the current No. 1 team in the Peninsula Athletic League Bay Division to a sole touchdown and extra point. 
"They came out running the ball well, but I think we adjusted well defensively as the game went on," head coach John Philipopoulos said. "But it's tough when you don't score points and your defense is consistently out on the field; they begin to wear down."
Burlingame's offensive struggles certainly came back to bite, as the Gators capitalized on the Panthers' mistakes and failed conversions, scoring 17 points in the second half. 
Although the Panthers didn't get on the scoreboard this Friday, the team remains optimistic about its offense in future games.
"We knew it was going to be a hard game. But still, I think we had one of our better games offensively, regardless of the score," senior quarterback Liam Friedman said. "We had our opportunities on offense, and we were moving the ball well, just unable to capitalize."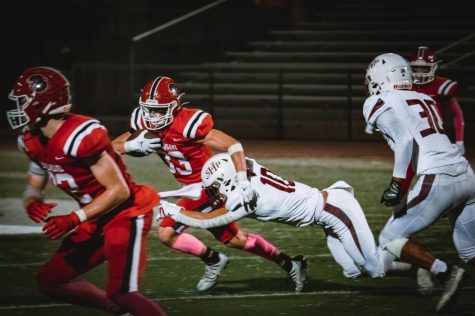 It has been a tough stretch of games for the Panthers: in just eight days, Burlingame has fallen to Menlo-Atherton High School and SHP, two teams ranked within the top 120 in California, according to MaxPreps. 
"We've faced arguably two of the best teams in the league in the past two weeks," senior cornerback Evan Daly said. "Obviously we've got a lot to clean up as far as the little things go, but I think we're still on the right track as a team." 
Coming off a second tough loss, Philippopoulos sees the last two weeks as a learning experience the team can carry into the future. 
"We're a young team, we're still evolving and growing," Philippopolous said. "Obviously losing never feels good, but I'm not disappointed in our effort and preparation coming into these games."
Burlingame will look to bounce back in an away game against Half Moon Bay High School on Oct. 21. 
"We're the underdogs in this league for the rest of the season," said Friedman. "We're just going to have to focus on taking what went well and building off of that the next game."