Burlingame Avenue is beginning to look like Los Angeles
Los Angeles or Burlingame Avenue? The beloved landmark downtown no longer feels familiar to returning visitors, as it has become overrun by bougie cafes, beauty salons, and trendy clothing– imitating the LA culture. 
Gone is Powell's, the old-fashioned corner candy shop with a self-serve jelly bean bar in the back. In its place? Mints and Honey, a boujee aesthetic cafe serving avocado toast and pumpkin spice lattes.
Urban Bistro has been replaced with Mediterranean Kitchen. Kara's Cupcakes is now Salt & Straw, an overwhelmingly popular ice cream shop known for waffle cones and bizarre flavors. 
It's not just restaurants: in 2018, Books Inc. closed down only to be replaced by yet another skincare boutique, Skin Spirit. At the time of writing, Burlingame Ave. is home to 64 different skincare shops, salons, and body clinics — and zero bookstores.
But the L.A.-aspiring culture shift of Burlingame Avenue does not stop there. It is no surprise that the Ave recently added two health food shops, Pressed Juicery and Palmetto Superfoods. In addition, three new boujee cafes emerged this past summer: Cafe Siete, Mints and Honey and Maison Alyzee.
The Ave is also swarming with a never-ending array of boba shops, now totaling eight within the downtown area.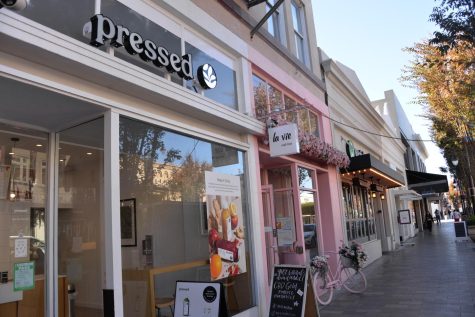 Burlingame Avenue also never fails to have an abundance of unaffordable, trendy, Instagram-able clothing shops like Lululemon, Madewell, Athleta, Francesca's and Kate Spade — again, all contributing to its boujee, chic downtown atmosphere.
Popularity isn't entirely a bad thing. Many of these new establishments have been successful, positive additions. Lines spill out the door for Salt & Straw's ice cream every Saturday evening. Mints and Honey's unique array of toasts and waffles attracts much larger crowds of people than Powell's ever did. But residents of Burlingame surely miss feeling at home in their downtown.
Let's keep around our beloved, long-standing shops and restaurants that remain: Crepevine, Copenhagen Bakery, The Cakery, Bay Area Bagels and Morning Glory (going strong after 27 years!). Shop. Eat. Enjoy. Because, if there's one thing we can all agree on, it's that Burlingame Avenue shouldn't become a carbon copy of Los Angeles's chain-filled selfie-friendly malls.