Burlingame preserves 13-year win streak in Little Big Game
After losing three straight games on its home field this season, varsity football brought the packed crowd to its feet on Saturday with a 49-21 victory in the 95th annual Little Big Game. Despite unusually stiff competition from San Mateo High School, the coveted "paw" remains safely in Panther possession. 
"In previous years I've stood up here and lied to the team about what a tough game it was going to be to keep them motivated, but this year it was a different story," head coach John Philipopoulos said.
On Saturday, more than the "paw" was on the line for Burlingame: its entire season was in jeopardy. Going into the match with a record of 4-5, the team had to win in order to secure a CCS berth. And, even after 12 consecutive Little Big Game wins, securing a victory wouldn't be an easy feat — this year, San Mateo won its PAL division with a 5-0 record.
From the opening kickoff, both teams relied on their run-based offense. For Burlingame, that meant a busy game for senior running backs Joey Nawrocki and Lukas Habelt, who accounted for 226 yards of Burlingame's offense on the ground.
Habelt led Burlingame's offensive charge with four touchdowns, including an 87-yard run that electrified the home crowd. Senior quarterback Liam Friedman performed solidly at the helm of the offense, going 8-of-11 for 63 yards with zero interceptions. 
"Our line was huge today," Habelt said. "They executed today and made it easy for us to do the rest."
Flags were a constant presence through all four quarters of the game, but stung the Panthers especially hard in the first half. 
San Mateo decided to go for it on fourth-and-two at the Burlingame 29-yard line towards the end of the first quarter.  A Burlingame offside penalty during the play gave San Mateo a free first down, and the drive ended in a touchdown. Another offside call forced the Panthers to punt on fourth-and-six as opposed to going for it on fourth-and-one. 
At halftime, the game was tied 14-14. But Burlingame flipped a switch in the second half, outscoring San Mateo 31-7.
"At halftime, we just talked about keeping our composure. We reminded them that we're the better football team and that we just needed to go out there and execute," Philipopoulos said. "They stole the momentum from us, and we had to steal it back with a three and out on defense and a score on offense. And that's exactly what we did."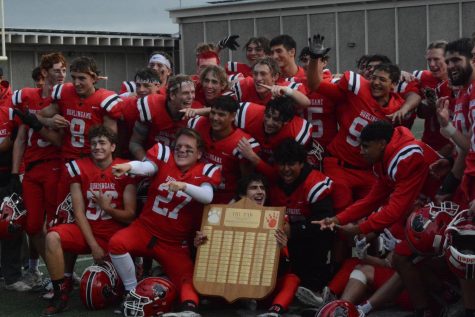 While the Bearcats hold a better win-loss record than Burlingame, the Panthers have faced tougher competition in the PAL Bay Division than San Mateo has in the lower Ocean Division.
"We're used to a different level of speed, a different level of competition, a different level of physicality. And I think you can see that as the game went on…we started to wear on them," Philipopoulos said.
Off the field, the game was a special opportunity for spectators. Filling the jam-packed stands, Burlingame students were able to watch the first proper home Little Big Game in four years. Since 1927, the game's location has alternated between San Mateo and Burlingame, but fans were unable to attend the 2020 home matchup due to COVID-19 regulations. 
On both sides of the field, there was no shortage of food, school spiritwear and festivities to celebrate the almost century-old tradition. 
With the paramount win under their belts, Burlingame will face Hollister High School on Friday, Nov. 11 in the first round of the Division III CCS tournament.