Panther Bowl: A promising first glimpse at girls' flag football
Senior quarterback Malia Schmidt scans the field, spotting an open Izzy Kossar 25 yards ahead of her. Without hesitation, she launches a spiral towards the endzone. Touchdown! 30 seconds later, Kossar intercepts an opponent's pass, sprinting down the field to make the score 12-0. The crowd roars at the action-packed spectacle. In perfect synch, the girls on the field jump into the air in celebration.
Last month, Burlingame got its first glimpse of female flag football in years — and it was exciting.
From Oct. 17 to Nov. 4, the Leadership Sports Commission hosted the "Panther Bowl" — a recreational female flag football tournament — for the first time since 2018. The move coincided with the California's Interscholastic Federation (CIF) Southern Section's approval of girls' flag football as an official high school sport in Southern California starting next fall.
"In the past, the females at our school haven't had the chance to shine in their athletic ability. And in previous tournaments we've had, like 'March Madness,' the boys who played just really dominated," Associated Student Body Vice President Mia Torres said. "Honestly, as a girl it's upsetting to see. It's just frustrating that the [Panther Bowl] was taken away because it was called sexist when I think that just wasn't the case at all."
Following its announcement on Oct. 5, the Panther Bowl was an instant hit among female-identifying students. In just one day, around 120 players, among eleven organized teams, put their names down to participate.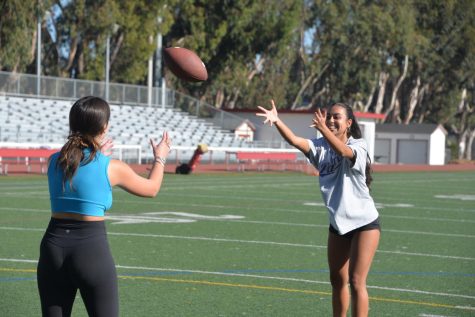 "I signed up because a bunch of my best friends and I thought it would be fun to play in something that isn't a sport in school," Schmidt said. "It has also brought me closer to people I didn't know before, so that's pretty cool."
In the weeks that followed, the Panther Bowl evolved from a fun lunch activity into a full-blown competition: teams organized formal practices, devised strategies and made personalized jerseys. It was a brief, but informative glimpse into how girls' flag football might operate as an official high school sport.
"I think it has been fun and eye-opening to experience what it's like to have roles reversed. I'm glad we had coaches from the football team as they are experienced with the sport and were very helpful and influential to our winnings," freshman Ren Tsunehara said.
With the CIF Northern Section set to vote on ratifying girls' flag football as an official high school sport in January, they will very likely follow suit with the Southern Section. In that case, girls' flag football would officially become sanctioned at Burlingame next fall.
"After seeing the news I was pretty excited to potentially play next year or this year," junior Lauren Cheng said. "I brought it up actually before the Panther Bowl announcement to one of my classmates, and she said she would join."
"
I feel like this is an opportunity also to have female coaches, because why not? Let's go crazy — have some female representation all the way through.
— Michelle Riley
If it implements girls' flag football, Burlingame would be following a larger nationwide trend. Participation in high school flag football nationwide has increased from 11,209 players in 2018-19 to 15,716 players in 2021-22 in the seven states that have already sanctioned it, according to the Los Angeles Times. Moreover, 15 colleges across the country offer girls' flag football as an official sport.
"I think football becoming an official sport in [Southern California] is good because I played flag football from fourth to seventh grade, and I was the only girl in the league," sophomore Miranda Sibley said.
While Sibley was an outlier on the middle school flag football field, she isn't alone at Burlingame. If the success of the Panther Bowl proves one thing, it's that an all-female flag football league is in high demand on campus.
Now, the resources for girls' flag football are trickling in across the nation. Last year, the National Football League and Nike provided a $5 million grant to kickstart the sport, and the Los Angeles Rams and Chargers initiated a pilot league with 70+ schools expressing interest. And in a sport that doesn't require the use of expensive helmets and pads, a little money goes a long way.
"I might need some training equipment, some uniforms, flags, balls, I don't think that would be too much of a hit on our budget," athletic director and football varsity coach John Philipopoulos said. "I would also hope and expect our district would see that schools are adding girls' flag football and would maybe help increase our budget a little bit to help offset that cost."
As for its safety, there are 15 times more impacts in tackle football compared to flag football, according to the Center for Disease Control and Prevention (CDC) — a reason its audience is rapidly expanding.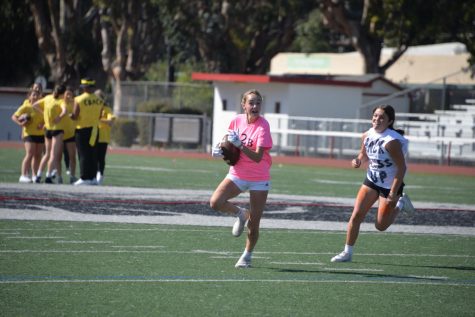 "When I watch football, for example, I can enjoy watching the game, but I don't think I would want to be in a situation where I was tackled," Cheng said. "That could be different for other people that participate in tackle football, but I think it's more approachable to a larger audience."
Since Title IX of the Civil Rights Act was signed into law in 1972, the treatment of females in sports has steadily become more equitable in public education programs. While many, including junior varsity soccer and varsity golf coach Michelle Riley, wish the approval of girls' flag football had come sooner, it's clear that the athletic landscape is finally shifting — and for the better.
"I'm looking at how many kids came out to play and be part of [the Panther Bowl]. Watching the games, we have a lot of really talented players," Riley said. "I feel like this is an opportunity also to have female coaches, because why not? Let's go crazy — have some female representation all the way through."
Leave a Comment
Donate to The Burlingame B
Your donation will support the student journalists of Burlingame High School - CA. Your contribution will allow us to purchase equipment and cover our annual website hosting costs.
About the Contributors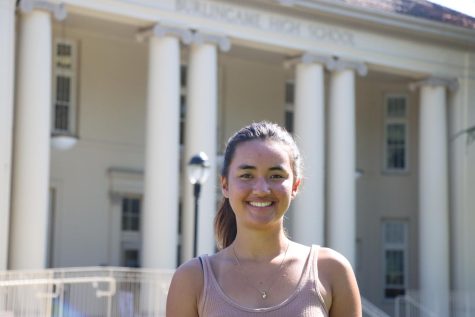 Michelle Moshkovoy, Sports Editor
Michelle Moshkovoy is a senior and a third-year journalism student at Burlingame High School. She is excited to be sports editor this year, delving deeper...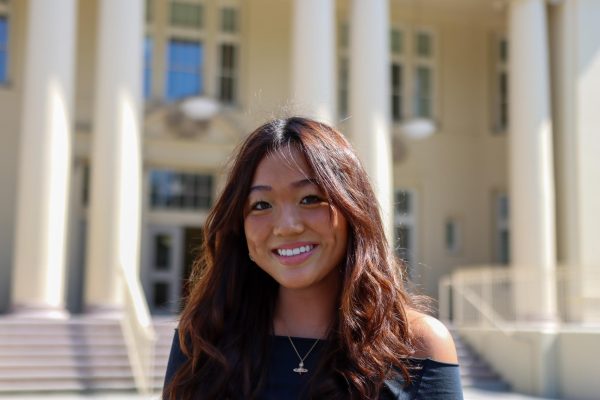 Jeannine Chiang, Web Editor













Jeannine Chiang is a junior at Burlingame High School and a second-year journalism student. She is excited to continue journalism...