Christmas spent on stage: what it takes to be Clara
This holiday season, a dream of mine came true: I am performing as Clara in the San Francisco Ballet's "Nutcracker." While I'm excited to watch the paper snowflakes fall from the rafters, the most precious prize from this whirlwind of an advent calendar is the opportunity to fulfill my childhood dream. 
In 2019, I was the "new girl" at the San Francisco Ballet School. I had been dancing at a slightly smaller studio in San Francisco for over five years when one of my teachers suggested that I audition for a different program to broaden my horizons. Little did I know that a few months later I would be wearing a San Francisco Ballet School badge with my name on it.
I vaguely remember pinning a number to the front of my leotard and walking into the studio with hairspray dripping down my face. At 12 years old, I was terrified that I would not be accepted for who I was, as I was mainly a contemporary dancer at the time.
Three years later, I'm just as nervous as I was in that first audition. When I walked into the 2022 Nutcracker auditions, I was scared that I wouldn't be casted. But I shoved my fears aside and poured my heart and soul into it. 
Two and a half weeks after the audition, my mom received a direct phone call from the front desk inviting me to a workshop for the role of Clara. Five other girls from the school had also been chosen, and we were pulled aside during class the following weekend to rehearse for the part. 
As an aspiring ballerina with nine years of experience in the art form, getting chosen to audition for Clara brought me one step closer to my lifelong goal. However, the audition process was not over yet. 
The casting directors were looking for only three girls to act as the face of the production, meaning we had to be reevaluated. That week, we were intensely watched and picked apart. It was very difficult — all six of us envisioned ourselves in the role, but half of us would have to let that dream go.
Dancers constantly seek approval. Whether it be from teachers or peers, compliments give us a sense of satisfaction while corrections often bring us down. That night, in a room with the company director, I painstakingly reviewed the list of corrections that he gave me, fearful that I was not ready to play the part. Luckily, I was wrong. 
After Friday, my two best friends and I were the only girls left, which meant we were officially playing Clara in the San Francisco Ballet's Nutcracker. I was too happy to contain my emotions. 
The reality of this moment did not fully settle in until rehearsals began late October. Playing the part of Clara meant being on stage alone in front of thousands of people. Unlike the other child dancers, Clara gets to rehearse side by side with the adults in the company. Essentially, we are treated like professionals. 
Rehearsals are only the "prologue" of the story. The week when performances begin is when all of the hard work and dedication comes to fruition. Rehearsals range from once a week to every day, spanning from four to seven hours. But I have no complaints; the Opera House is a beautiful second home.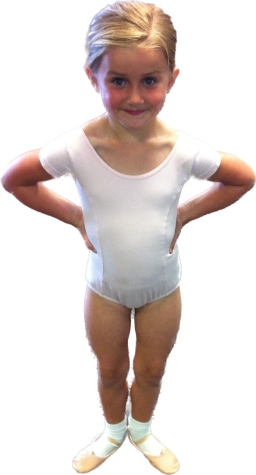 On Friday, Dec. 9, I signed in at the San Francisco War Memorial Opera House, scribbling my initials next to Clara. My personal chaperone brought me down to the dressing room and I set my belongings aside. I had so many questions.
It was all a blur — getting my hair curled, closing my eyes so the makeup artist could apply a pound of foundation to my face, slipping on my elegantly laced party dress — just to run down the beloved staircase onto the stage.
Sure, I was anxious, but the butterflies in my stomach disappeared as soon as the lights shined on me. I did what I was trained to do and, before I knew it, I bowed for the crowd as they stood up from their seats with a massive roar. 
As I look back on my first performance as Clara, it still feels surreal. As I curtsied, I looked up to the very top of the house and saw a glimpse of the packed audience. I took my time to savor the moment. At 16 years old, this was a once in a lifetime experience. 
What brought me close to tears was the fact that I was continuing a legacy. The girls that came before me and those that will follow know that, in the ballet world, countless hours in the studio can produce endless magic on stage.