Winter taste test: Reviewing popular holiday treats
Jake Rothstein

Winter isn't just about cold mornings, holiday cheer and festive decoration — it also gives us a reason to enjoy delicious, seasonal foods. With Thanksgiving snacks and family-dinner-themed pastries flooding the shelves, reporters from The Burlingame B set out to discover which winter-themed foods from Starbucks and Trader Joe's live up to their reputation.

Starbucks drinks: 

Every season, Starbucks introduces its weather-appropriate drinks, and this year's winter choices included warm drinks filled with peppermint and sweet, dessert-themed iced drinks. We rated each drink on a one-to-five scale.

The Hot Peppermint Mocha proved to be a great start. The strong chocolate and peppermint flavor worked well with the underlying, subtle taste of coffee, earning this drink four stars. However, it is important to drink this hot, so it gives you a warm, holiday feeling as you drink it. 

The Almond Milk Sugar Cookie Crème Blended Frappuccino was very sweet and overpowering. The combined flavors proved to be too sugary, especially with the addition of almond milk. The presentation, on the other hand, was great, boosting its score to 3.5 stars. 

Unfortunately, the Iced Peppermint White Chocolate Mocha did not meet our expectations. The peppermint flavor was hardly there, and while the drink wasn't terrible, it was not something we would order over numerous other quality Starbucks drinks. It earned 2.5 stars.

Now onto the Trader Joe's items! 

Trader Joe's foods: 

Similar to Starbucks, every season, Trader Joe's releases an array of seasonally-themed snacks that give consumers a taste of the holidays with every bite. 

The grocery store started off strong with the Danish Butter cookies, which filled their unique and adorable tin to the brim. These bite-sized pastries were quite the treat: the butter provided a rich and creamy texture, warranting five stars.

It seems like Trader Joe's introduces a new flavor of Joe-Joes — their spin on Oreos — for every season of the year. The Dark Chocolate Covered Peppermint Joe Joe's we tried checked nearly all our boxes. It had a strong peppermint flavor and deliciously rich dark chocolate, but we struggled to bite into it. The tough texture held the cookie back, meriting only four stars. 

The presentation of the Mini Cranberry Pistachio Biscotti immediately reminded us of the holiday season  — and they smelled super good. This treat would go great alongside coffee or tea. They are small and a great afternoon snack in the winter, earning four stars.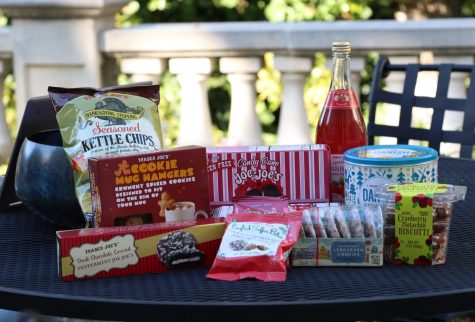 Thanksgiving Stuffing Seasoned Kettle Chips were our favorite out of all the snacks; the savory and lemony flavors burst in our mouths when we took a bite. While it did not replicate turkey stuffing, it reminded us of Thanksgiving and deserved five stars.
Any snack would have a hard time living up to the kettle chips, but the German Lebkuchen Cookie was a big letdown. The cookie was soft and easy to bite into, but once the overpowering ginger flavor and strange combination of almonds, walnuts, and hazelnuts hit our taste buds, it failed to gain our satisfaction. This combination of flavors and textures felt foreign and unnatural, so we gave the cookies two stars.
The regular Peppermint Joe-Joes did not meet the standard of their Dark Chocolate Peppermint variation. Its wafting toothpaste scent made for a bad first impression, and the cookie was dry. The disappointing holiday cookie got just two stars from us. 
Sparkling Cranberry Juice was a great addition to the lineup, to say the least. With the strong cranberry taste and fizzy pop, this is the perfect drink to pair alongside a family dinner. We totally recommend this — five stars. 
Peppermint Bark was extremely thick and hard to break off. With one large layer of white chocolate and a topping of dark chocolate, it embodied the Christmas spirit and could be melted over hot chocolate to create a peppermint drink. We gave it 4.5 stars.
Last on our list were the English Toffee Bites, which lived up to their name. These bite-sized treats are perfect to throw in your bag when you need a little snack, as they are rich and buttery in flavor. The Toffee Bits ended our Trader Joe's taste test on a high note, earning another 4.5 stars. 
Leave a Comment
Donate to The Burlingame B
Your donation will support the student journalists of Burlingame High School - CA. Your contribution will allow us to purchase equipment and cover our annual website hosting costs.