I will never feel safe running in the dark
The 5 a.m. breeze startles my body as I open the front door and force myself outside for my run. I grab my sweatshirt, wrap my legs in baggy joggers, warn my dad to worry if I'm not back within the hour and set out into the darkness. 
Outside, it's silent, except for the sound of my tennis shoes pounding against the pavement. But in my head, no matter how loud I turn up the volume on my headphones, I can't block out every girl's worst nightmare — being kidnapped, raped or murdered. 
During my morning runs, I want to focus completely on myself, my goals and my pride. In reality, however, these moments are when I feel most vulnerable and most conscious of my surroundings. 
According to a survey conducted by Runner's World, 60% of women claim they have been harassed while running. The General Social Survey from 2012 concluded that over 45% of women are afraid to walk alone in the dark of their own neighborhoods while just 19% of men are. These worries aren't irrational; I've heard countless stories of women who have been kidnapped or murdered after exiting their homes. 
I remember what my mom always tells me: always keep one of your ears alert. Instead of enjoying my run, I'm stuck half-listening to music and glancing back every minute to see if anyone's trailing me. I tell myself that I shouldn't feel unsafe: After all, I'm running in the small town of Burlingame where "nothing bad happens." Yet, this fear exists no matter where you live — it's impossible to ignore that, at any moment, your life could be stripped away just like Eliza Fletcher. A mother and teacher, Fletcher was jogging in Memphis in the early morning when she was approached and thrown into a vehicle by a man who ultimately murdered her. Fletcher's story is not unique — another woman killed at the hands of a man — but it validates the fears and vulnerabilities  of every woman. 
Every bright pair of headlights immediately feels like a threat. Every car I hear behind me is a cue to run faster. I continue to move forward, waiting for a glimpse of the sunrise. The answer to my problem is not to run during the day or wait for the sun to rise. I shouldn't have to change my behavior or adjust my run times — men sure don't have to. As a female, it's second nature to fear the actions of a predator and to doubt the safety of my environment. Sure, I can try to mask the thought of the terrifying scenarios as I run, but the alarm bells still ring in my head whenever a person or car approaches. I continue to ask myself: How can I find my safe space as I run alone through early morning darkness? 
"Play your music louder." 
"Ignore those thoughts." 
"Take a self-defense class." 
Instead of trying to fix this societal angst that's instilled in every woman, I just try to take back as much control as possible. In finding my safe haven, I've realized that I'll never feel entirely safe — and I think that's okay. It's life, and I have to find a way to adjust to the fear. Instead of wasting my runs fearing the unknown, I've found ways to calm my mind and get the most from my morning exercise. I've learned to embrace the darkness and the fear that accompanies it. I take a deep breath and run faster.
Leave a Comment
Donate to The Burlingame B
Your donation will support the student journalists of Burlingame High School - CA. Your contribution will allow us to purchase equipment and cover our annual website hosting costs.
About the Contributor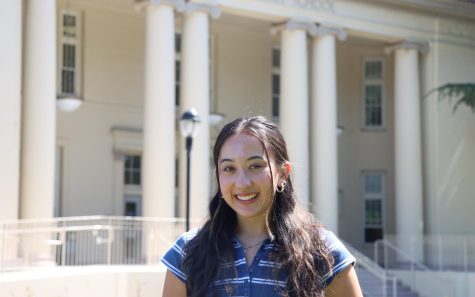 Amanda Nolan, Social Media Coordinator
Amanda Nolan is a senior at Burlingame High School and Social Media Editor for the Burlingame B as a second-year Journalism student. Aside from being curious...