Little Big Game halftime successful show for cheer and band
November 9, 2017
Filed under Sports
Hang on for a minute...we're trying to find some more stories you might like.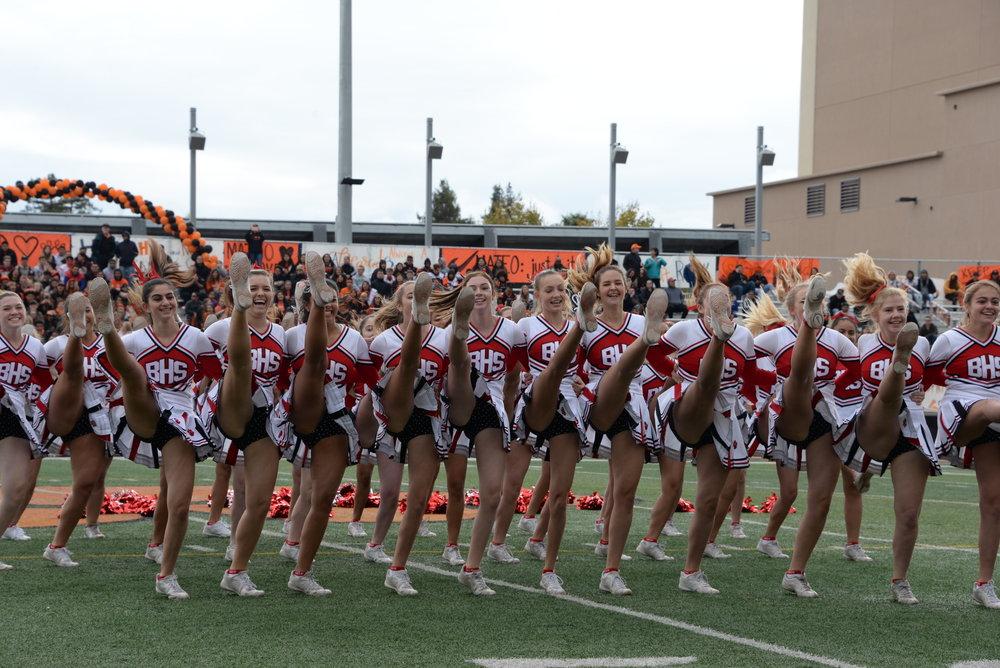 One of the most anticipated parts of the Little Big Game is the halftime show. Both schools work for months to put on an amazing halftime show for those in the stands. Burlingame's cheer team and band both performed first, followed by San Mateo's cheer, dance, flag teams and band.
"Cheering at LBG is always so fun because the crowd has so much spirit that reflects onto the cheerleaders," senior and varsity cheer captain Ashley Kung said.
Much like the rivalry on the field, both cheer and band members say they feel the rivalry during the halftime show too.
"We always feel a little bit of competition with the San Mateo cheer team, but at the end of the day, we try to put together a performance that our crowd will enjoy and they do the same as well," Kung said.
"San Mateo's marching band is a lot different from ours in that they are a separate class from their regular orchestra so they practice everyday and can devote a lot more of their time into marching," Meghan Hockridge, a senior percussionist, said. "But it's a pretty healthy competition and even with less practice we still seem to measure up pretty well."
During the Little Big Game, the cheer team performs with varsity and junior varsity as one team, and the team traditionally dances to classic and timeless songs from the past. The routine began with The Isley Brothers' "Shout," and the famous kickline was perfectly timed to "Hey Mickey," an 80's classic.
The seniors took the spotlight for the end of the routine, dancing to "Hollaback Girl" for their final moments on the Little Big Game stage.
"I am sad that my last Little Big Game is over, but glad I got to take part in it all four years," Kung said. "I think that I will miss the feeling of walking off the field after performing, knowing that we hit all of our stunts and performed a routine we were confident about and had so much fun doing the most."
The band also took on a classic song, playing "Carry On My Wayward Son" with a drum break in the middle. The band performed under the direction of senior Stella Lorence, and for her and other seniors, the performance was a sentimental end to their four years of tradition.
"It's definitely a little sad that it's the last time playing at the Little Big Game, but I do feel really proud that all four years I've been given the opportunity to come out and support BHS," Hockridge said. "Plus, we've won every year, so I definitely look back on all the Little Big Games fondly."