Give in to the hype: you won't regret watching 'Wednesday'
"Wednesday" is already one of Netflix's most streamed shows of all time. Within the first week of its release on Nov. 23, this dark spinoff of the whimsical "Addams Family" franchise racked up 341.2 million hours of screen time — a new record for most hours viewed in that time frame. And "Wednesday" shows no signs of slowing down: by Dec. 21, it had tallied 1.19 billion streaming hours, making it Netflix's second-most watched show in its first 28 days. 
I couldn't resist the chance to critique the show as overhyped and dull, so I decided to watch it for myself. But I was mistaken — "Wednesday" deserves every record its broken, and more.
Directed by gothic icon Tim Burton, the show follows Wednesday Addams (Jenna Ortega) during her time at Nevermore Academy, a school of vampires, werewolves, sirens and other outcasts. Introverted, anti-social Wednesday enters the school with low expectations, but when a student is murdered, she finds herself in the center of an intricate web of mysteries and secrets. As Wednesday races to solve the mystery and slowly separates malicious enemies from trustworthy friends, she finds herself opening up to new people and realizes that she's not alone.
Jenna Ortega's performance as Wednesday was unexpectedly incredible. The Disney star brought Wednesday to life, staying true to her dark nature, but adding depth and personality to her character. Most notably, her self-choreographed "Goo Goo Muck" dance was a unique touch that received lots of attention on social media.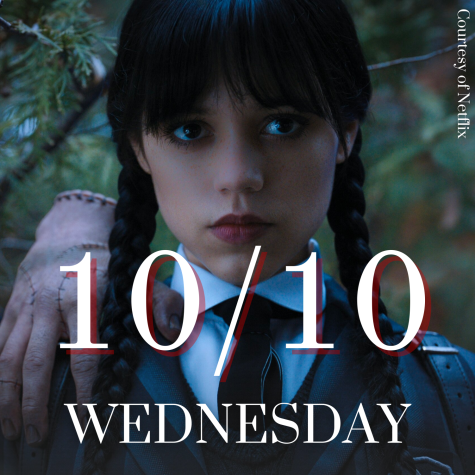 Christina Ricci, who played the role of Wednesday Addams in the '90s "The Addams Family" films, was also featured in the show as Marilyn Thornhill, Wednesday's "dorm mom" and the botanical teacher at Nevermore who is hiding a dark secret. Acting powerhouse Catherine Zeta-Jones also performed marvelously as Morticia Addams.
The storyline was intricate and intriguing, packed with shocking twists that I couldn't foresee. At first glance, the show offers a comeback for the Addams Family, but it also introduces a fresh, modern mystery with a cast of compelling, well-rounded characters. Simultaneously, it focuses on a multitude of different relationships, including romantic ones, budding friendships and parental love. A layered plot kept the show moving and pre-empted mundanity.
I appreciated that in a limited amount of time, I got to know each of the characters so well. I found myself developing a surprising emotional attachment to Thing, the Addams' literal right hand and Wednesday's closest friend. Enid's character was delightful — I thought that her bubbly personality contrasted nicely with Wednesday's gloomy one, and their friendship was well-balanced and fun to watch. I thought Bianca was exceptional too, and her excellent makeup took her performance to another level.
Kudos to the directors: the show's overall execution was fantastic. Throughout the series, the lighting shifted to fit the setting, often maintaining a darker, dulled blue hue — a perfect accompaniment to Wednesday's vibe. Each of the characters' makeup and costume was perfect for them. Action-packed fight scenes and stunning special effects in the final episode were a remarkable send-off for the show.
I would give Wednesday a perfect comprehensive rating of 10/10. It was an amazing viewing experience, with incredible performances by the actors and beautiful execution and production. This show is worth every bit of hype it receives, and I will eagerly await its renewal for a second season.