College Board's monopoly takes advantage of students
November 26, 2017
Filed under Opinion
Hang on for a minute...we're trying to find some more stories you might like.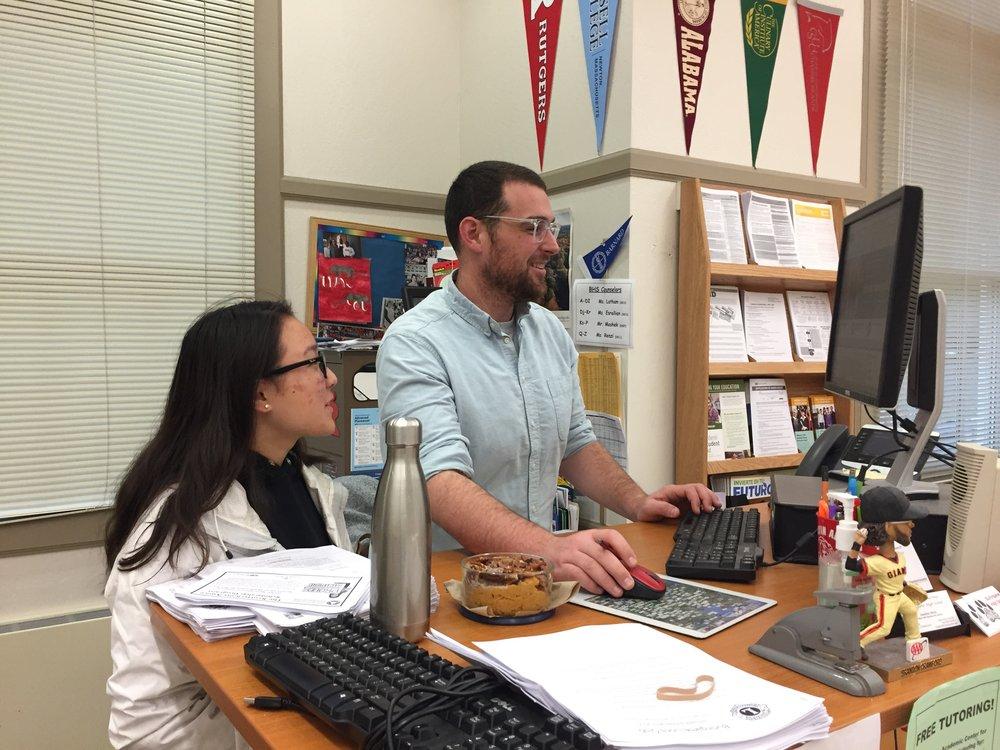 The College Board has adopted an indispensable role in high schools and the college application process.
For many Burlingame High School students, the month of May is a frenzied cycle of crash courses, practices tests and the AP exams. The College Board regulates these AP exams and also controls the SAT and SAT subject tests that are required from each student who wishes to apply to college. Such a heavy dependency on one organization is alarming, especially when it monopolizes education and profits off of students' anxieties about improving their chances to get into college.
As the stress from the college application season reaches its apex, many seniors are starting to realize the heavy financial burden that the process entails. There is a price for almost everything: sending transcripts, score reports and sending in the applications themselves.
The SAT, SAT subject tests and AP exams are all benchmark tests that students are strongly encouraged to take to show their academic prowess to colleges. However, there is a hefty price tag for each type of test.
The SAT costs $46 with no essay and $60 with the essay to take each time, a cost that accumulates quickly, as the average student takes the exam two or three times for an optimal score. Once students take their SAT tests, they are charged $12 to send an official score report to each college. Because the average college bound student is applying to an average of six to eight schools, this cost adds up.
SAT subject tests cost a baseline fee of $26, and an additional $21 for each regular subject test and $26 for each test with a listening section, applicable for tests of foreign language. This cost also proves to be insidious as many students take multiple subject tests to showcase their preferences and talents for individual subjects.
The AP exams are by far the most costly. The fee for each AP Exam in 2016 was $92. This was a slight increase from the $91 fee in 2015. In general, the cost for AP exams tends to rise by a dollar or two each year. In the future, students can expect the fee to rise slightly to $94 in the next year.
The cost of these exams can amass exponentially, especially at BHS where a myriad of AP classes are offered and the competitive environment pressures students to take multiple AP classes per year. To make matters worse, they also tack on multiple extra fees for "optional" services, such as "rush orders" and the "question-and-answer" service.
By the end of their high school careers, students can expect to spend hundreds of dollars on exams– a price tag that is masked by the mentality that these tests are vital for success on college admittance.
Senior Julia Rajkovic emphasized the financial stress that sending each individual score report adds to the already stressful college application process.
"I was very surprised from seeing my receipts from sending my ACT scores, SAT scores and AP scores," Rajkovic said. "I think it totalled to around $600, and that was only for my first five colleges. I think this is discouraging kids to take more tests and do the best that they can, especially if you're not eligible for a scholarship. It's a lot of money and I think that it's unfair."
This financial toll is magnified for students with limited resources. Although Burlingame tries to cater to many students' needs, the system can work against students who don't have that same luxury.
Senior Sam Aspin reflected on these circumstances.
"It's pretty shocking, especially for kids at under-funded schools," Aspin said. "Last year I took three AP tests, and it totalled to $300. BHS has resources that tries to match students' varying financial needs, but I imagine that kids that go to schools that can't afford to help everyone would struggle much more to come up with the money."
After assessing the cost for all of these tests, Aspin and Rajkovic were surprised when they were reminded that the College Board is a non-profit organization.
"I'm finding it hard to believe that they are a non-profit," Rajkovic said. "I'm sure they use the money for scholarship and making the tests, but it seems a little over-priced, especially since we're just trying our best to take all the tests to achieve our educational goals."
The College Board capitalizes off of the perceived and exaggerated importance of all of the tests they offer– a result of the pressured environment that students face. They have turned into a monopoly and business, making it increasingly difficult to believe that they have students' best interests in mind.