Intense thriller ends in draw for boys' varsity soccer league opener
Boys' varsity soccer battled through heavy rain in its first PAL Bay Division matchup on Tuesday, Jan. 12, which ended in a 1-1 draw against Aragon High School.
The game started off highly contested, with the Panthers dominant in possession but unable to find consistent scoring opportunities. Aragon, on the other hand, completely abandoned passing out from the back, preferring to punt the ball as far down the field as possible.   
The Panthers' first breakthrough came one minute into the second half, when senior winger Alejandro Contreras scored their first league goal off a long throw-in from senior right back Lleyton Yang. 
"It was definitely an important goal for the way the game was headed," Contreras said. "We needed that goal to boost our energy for that second half. It was also a great confidence booster having that first goal of league out of the way."
Aragon would have equalized the score in the 51st and 61st minute if not for two heroic saves from senior goalkeeper Antonio Vazquez in one-on-one situations.. He looked composed and confident in goal, despite his lack of familiarity with the position, having primarily played as a forward. 
"I haven't played goalie in probably ten years," Vazquez said. "But I've had great coaches walking me through the fundamentals which has really helped me build confidence and I think that showed out there tonight." 
Vazquez was thrust into the role of a plug-in goalkeeper for the Panthers this season, with the team lacking a goalie at its beginning. 
"Credit to him for stepping into that role," head coach Anthony Dimech said. "His reflexes were amazing throughout the game. If it weren't for that last-minute conceded goal, it would have been a really solid clean sheet for him." 
As the game went on, Aragon's tactics intensified with the pouring rain. Their bench became more and more active — heckling, hollering, and screaming — and it seemed they just couldn't ever be quiet.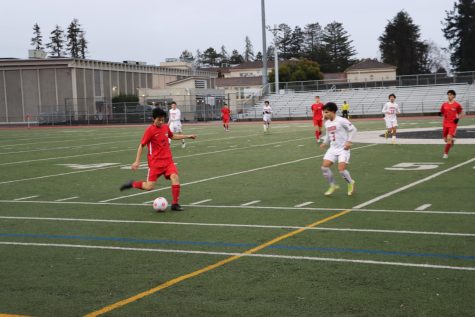 "In those moments you have two options: talk back or stay calm and let your play do the talking," Vazquez said. "With that intense environment, we really needed to relax and just slow the game down." 
Burlingame was ultimately able to keep its composure throughout a majority of the game, but a case of bad luck prevented them from seeing the game through. A small deflection left an Aragon attacker one-on-one, and the Dons scored the equalizer with just 10 seconds to go. 
"Props to them — they never stopped fighting. They're a tough team and they just kept on coming, and unfortunately we got a bit unlucky at the end," Dimech said.
As the game extended into stoppage time, a sense of angst for both teams grew palpable in the air. Everyone on Burlingame's bench held their breath with each Aragon attacking move, and urged the team on with every breakaway attack. Burlingame had many chances to score the winner in stoppage time, creating counter-attacks and outnumbering the defense in transition, but found it difficult to convert the scoring opportunities. 
"This was our first game coming off of winter break so there was definitely a little bit of rust and fatigue especially late in the game," Dimech said. "And that's how soccer goes, you can feel in control for however long you can, but just one moment can change everything if you aren't able to capitalize on your chances."
Despite avoiding a loss, the ten seconds that separated a win from a tie will certainly sting for the Panthers
"It definitely felt like a loss," senior center-back Alex Au said. "They didn't really have that many good chances up until the end and it definitely hurts to see a win disappear at the last minute." 
The Panthers will next face off at home against Menlo-Atherton High School on Friday, Jan. 13, as they seek their first league win. 
"Moving forward, I think our mentality can be better, especially when we reach the later stages of the game and not getting complacent," Contreras said. "Overall, we just need to continue developing our creativity in attack but still keep it as simple as possible."